Back to school
Shannon Devine | A familiar scene has descended upon the neighbourhood with what the French call "la rentrée" — the annual homecoming of students to the halls of academia. Bookbags have replaced coolers, and textbooks once again outnumber Frisbees on the lower field of McGill's downtown campus. This year the university will welcome in over 7,000 new students and 104 new professors.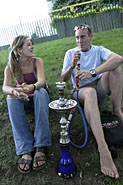 Owen Egan
The integration process has become much easier thanks to changes made by the registrar's office in doling out student identification cards. Now students will spend less time waiting in line with fewer stops along the way.
Last year's long lineups and the corresponding grumpy students were enough to convince Registrar Sylvia Franke that improvements were in order. "The ID card is now much more useful to the students," said Franke. "With the changes that are happening in the residences, they actually need that ID card in order to get into their rooms; we had to rethink how we deliver the service."
This year the ID centre opened three days prior to orientation week to give students the chance to obtain their card shortly after moving into residence. The revamped process allowed students and parents to speak to representatives from the student accounts office, the international students' office and Information Systems and Technology Customer Services (ICS), where students could get their official McGill email address. This last stop was important because email is now an official mean of communication for the university.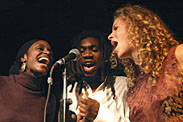 Owen Egan
"Our residence director reported that some of the higher-year students are annoyed when they discover how painless the ID card centre approach has been this year," said Franke. "We like to think that it changes that all-important first impression students get of McGill."
Branching out
With students coming from 150 different countries, orientation activities have to be as diverse as the aspiring scholars themselves. For Radical Frosh coordinator Aaron Lakoff learning about the surrounding Montreal community is the best way for new students to adapt to a new city life.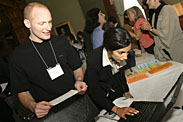 Owen Egan
"McGill is a very insular community — the island within the island," said Lakoff, a second-year political science student. "A lot of kids go through their whole student life here without really feeling much connection to the communities around them. We are hoping to change that." Guided by the mantra, "Tune in, turn on, branch out," over 120 participants learned about topics like global food systems, transgender politics, indigenous self-government and alternative media, as well taking part in a tour of St. Henri and a panel discussion on immigration and Canadian policy.
Thousands more participated in festivities organized by the Student Society of McGill University and faculty associations. Graduate students will not be left out of the merriment either, with a full welcome program running from September 7 to 19, organized by the Post-Graduate Students' Society (PGSS).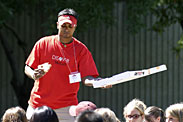 Owen Egan
PGSS VP internal and orientation coordinator Monica Farcas believes that grad students need an outreach program just as much as their undergraduate counterparts. "They don't live in residence and have that bonding experience, so what often happens is that they focus on their work a lot and it becomes harder for them to begin socializing," said Farcas, a second-year master's student in chemistry. Aimed at breaking the isolation many grad students feel, the itinerary includes an evening of wine tasting, visits to the Biodome and La Ronde and a stand-up comedy show.
New professors also had a dose of orientation activities with a full day of guest speakers, informational sessions on topics such as the importance of teaching, benefits, McGill childcare and the libraries, followed by a social gathering. "We want to make sure that they meet people in the same area as them and that they are initiated into the McGill system," explained Andrea Zdyb of the office of academic personnel, which organized the event.
Staying in
Parents may have just as many anxieties as new students do when it comes time to drop off their little darling at the Roddick Gate. During orientation week, Dean Bruce Shore met with almost 1,500 parents, most of whom had travelled from abroad to help settle their children in. Questions ranged from when it begins to snow to inquiries on the student lifestyle.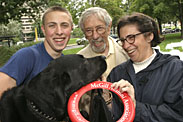 Owen Egan
"Some parents don't believe we are not going to send them their children's marks," said Shore, noting that the privacy laws in Quebec can be a major adjustment for some parents.
Parents also had their questions answered in the parent tent set up on the lower field by the McGill Parents Association. McGill also had walking information kiosks in the form of volunteers for the ASK ME program, who were on call to answer questions about the university and give directions.
For the second year in a row, Janice Johnson, manager of the student housing office and residence life, is breathing easy in her University Street office. Unlike previous years of a severe housing crunch, no longer does she have to answer phone calls from desperate parents demanding why their children were not accepted into residence.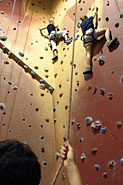 Owen Egan
"The parents want to know that their kids are going to have housing," said Johnson. "With the guarantee back in place, their concerns are lightened."
There will also be more faces around campus due to a decision to accept more students, which will sustain provincial funding. Students may have a tougher time getting into the courses that they need. This problem should be eased by the presence of new professors, according to Shore.
In the Princeton Review's annual college guide, released in August, McGill was honoured with a top rating in the category of friendly campus race/class relations, but lost major points in areas like accessibility and red tape. These poor grades have been taken to heart, inspiring a new focus on accessibility. Notable changes range from the student carding process to professional development on the importance of teaching. "I hope we are able to find ways to be better at the human part of what we do," said Shore.