Farewell to a friend
Kathryn Haralambous | Betty McNab, legendary fundraiser for McGill University, died at her Westmount home on New Year's Eve. She was 87.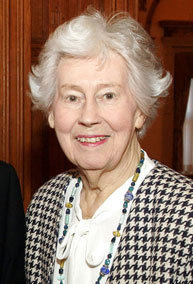 Owen Egan
Sadly, McNab passed away just before the dawn of the year that will mark the 150th anniversary of the McGill Alumni Association she helped build and solidify.
McNab was honoured for her unsurpassed contributions to McGill with an annual history of science lecture and a scholarship in her name, both gifts from the Friends of McGill University Inc., in New York. A pioneer for women in the workplace, she worked tirelessly to harness the unlimited potential of McGill's alumni and friends.
University Chancellor Richard Pound remembered McNab as having been "absolutely dedicated and devoted to McGill."
Born in Montreal on Nov. 4, 1919, the eldest of two daughters of a Grand Trunk Railway employee, Elizabeth Bennet McNab was raised in Oakville, Ont. When she was 14, the family returned to Montreal, where she attended Montreal High School for Girls.
In November, 1945, four years after she earned a bachelor of arts degree from McGill, the volunteer president of the McGill Alumni Association, Eric Leslie, hired her on the spot to manage the university's War Memorial Campaign and to build a full-time staff. And build she did. She was soon joined by Lorne Gales, another exceptional fundraiser; they worked side by side for McGill.
Thanks to McNab's stalwart and inspired direction, gifts to McGill from alumni and others grew from $150,000 in 1947 to $23 million in 1985, the year she retired. Last year, the total was $56 million. Today, 159 people oversee development and alumni relations; when McNab started the university's alumni relations efforts, she was one of five on staff — and she held the holiday party in her office.
In 1959, she was named Director of Annual Giving, becoming the first woman at McGill to hold the title. In 1973, she became McGill's Director of Development, the first woman at any Canadian university in that position.
At her funeral on Jan. 8, colleagues and friends, many of them alumni who enjoyed years of gracious, engaging friendship with McNab, spoke of her uncanny ability to forge personal relationships that transformed both them and McGill.
"Betty had the capacity to build for the future without forgetting the past," Senior Development Adviser Tom Thompson told the gathering.
McNab is survived by her sister, Jean. She leaves a university that is stronger and better for her tireless dedication.