Around campus
Biodiversity in jeopardy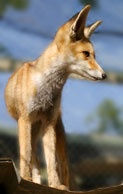 iStock photo
Just as variety is the spice of life, biodiversity gives flavour to the biosphere. Unfortunately, biodiversity faces significant threats today, which is why the Redpath Museum will be hosting a symposium called "Saving Biodiversity: Channeling Data Into Policy" on Saturday, Jan. 27. Featuring talks by leading experts in the field from McGill and across Canada, the symposium will explore how biodiversity data from nature can channel into sustainable conservation policy at national and international levels. Appropriately enough, the event's organizers hope to attract a highly diversified audience that includes members of the public, students, professors and researchers, as well as policy-makers and representatives of non-governmental organizations and funding agencies. All are welcome.
"Saving Biodiversity: Channeling Data into Policy," Saturday, Jan. 27, 10 a.m.-5 p.m., Redpath Museum, 859 Sherbrooke W. Admission: free. For more information, contact Ingrid Birker and Sara Lourie, 514-398-4086, ext. 4094, or visit www.mcgill.ca/redpath/symposium.
Redpath screens science with documentary series

iStock photo
If you're tired of paying too much to watch Hollywood dreck at dehumanizing multiplexes, maybe you should spend your next afternoon at the movies at Redpath Museum. Every Sunday at 4 p.m., the museum shows a science-related documentary on the large screen in its Victorian lecture hall. All are welcome to attend at no cost other than a small donation. Coming attractions include Cane Toad (Jan. 28), a comic look at the unexpected consequences of introducing this alien species into Australia in 1935, as well as L'Erreur boréale (Feb. 4), the Jutra award-winning documentary about the forestry industry's practices in northern Quebec. Subsequent films will focus on whale biology, volcano exploration, factory hog farming and many more intriguing scientific subjects.
Sundays, 4 p.m., Redpath Museum, 859 Sherbrooke St. W. Admission: free with donation to museum. No food/beverages allowed. Check out www.mcgill.ca/redpath/whats_on/sunday_activities/superscience for complete winter schedule. For more information contact Ingrid Birker, 514-398-4086, ext. 4094.
Getting your yuks at MForum Comedy Show

iStock photo
Are you the kind of McGill staff member who likes to giggle, chuckle, maybe even guffaw? Then be sure to clear your calendar for lunch hour on Thursday, Feb. 1, when stand-up comic Joey Elias will be inducing laughter in all its forms as part of McGill Management Forum 2007. A Montreal native who has worked in comedy since 1992, Elias has an overdeveloped sense of humour that has allowed him to put together an impressive CV: he has appeared in 10 "Just For Laughs" Festivals, his own national Canadian TV special and feature films alongside Hollywood stars Randy Quaid and William H. Macy. The Montreal Gazette has called him "a treasure" and the Hour has said, "His material is sold by a smooth gregarious personality, grafted onto the body of a class clown!" So, if the January blahs have put you in need of a few good belly laughs, you now know where to find them.
MForum Comedy Show, Thursday, Feb. 1, noon to 1:15 p.m. Moyse Hall, Arts Building, 853 Sherbrooke W. Admission: $2, open to all staff members. Refreshments will be served. For more details, www.mcgill.ca/mforum.
Drop in, freak out

iStock photo
If you're not already a die-hard Freaky Friday fan, it's time you found out what all the freakiness is about. Every Friday afternoon at the Redpath Museum, a McGill scientist confronts one of our culture's best-loved myths from an enlivening scientific perspective, then screens a classically campy film related to the topic of the talk. On Jan. 26, anthropology Prof. Michael Bisson will deliver "Invasion of the bug-eyed aliens: exploring myths in American post-war movies," to be followed by a screening of the 1988 John Carpenter flick They Live. Don't freak out, just be there.
Friday, Jan. 26, 4 p.m., Redpath Museum, 859 Sherbrooke W. Admission: $5, all proceeds go to construction of large origami Pteranodon to be suspended above the museum's dinosaur. For a complete listing of upcoming presentations, visit www.mcgill.ca/science/outreach/freakyfridays.
Feed me, Seymour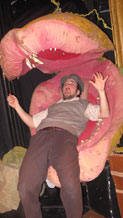 Courtesy of AUTS
A new theatre group is staging an old favourite. From Jan. 24 to 27, the recently formed Arts Undergraduate Theatre Society (AUTS) will present its first annual production, the award-winning musical Little Shop of Horrors, directed by Jessica Kostuck, with music direction by Clive Chang. First staged in 1982, this darkly comic musical tells the story of flower shop clerk Seymour Krelbourn, the beautiful coworker with whom he is besotted and the carnivorous alien plant with which he makes an ill-advised pact. It features classic songs such as "Suddenly Seymour," "Now (It's Just the Gas)" and "Somewhere That's Green." The AUTS, which is managed by and for Arts undergraduates, was founded to establish a happy medium between small-scale, black-box theatres and large main-stage productions.
"Little Shop of Horrors," Jan. 24-27, 8 p.m. Moyse Hall, Arts Building, 853 Sherbrooke W. Admission: $12, $10 for students. Tickets available at Snax, Leacock Building, 853 Sherbrooke W., by email reservation (auts.publicity@gmail.com), or at the door.