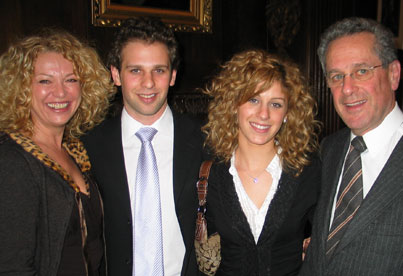 Penny, Andrew, Jessica, and Gordon Echenberg celebrate the announcement of the Echenberg Family Conference in Human Rights at the Faculty of Law on Jan. 17.
Micheline Sénia
Echenbergs launch human rights conference
Pascal Zamprelli | McGill's long tradition in the study and promotion of human rights is set to become stronger still. On Jan. 17, the Faculty of Law announced the establishment of the Echenberg Family Conference on Human Rights, made possible by a generous commitment from Gordon Echenberg and his wife, Penny. Mr. Echenberg declared that the Penny and Gordon Echenberg Foundation will make $750,000 available to support this initiative, an investment will that will fund a series of five conferences, held every two years, that will be a forum for informed dialogue on issues of human rights. The series begins with The Global Conference on the Prevention of Genocide, to be held Oct. 11 to 13, 2007.
Mr. Echenberg, a graduate of McGill Law and a former president of the McGill Students Society, endowed the series as a way to initiate a dialogue on human rights that would lead to tangible results. He decided on a conference series in the hope that the meetings will go beyond scholarly discussion, and "take the benefits of academia to the public. These conferences will hopefully have some influence on decision makers, and generate public awareness and public interest."
Speakers for the inaugural conference include Senator Roméo Dallaire, former leader of the United Nations Peacekeeping Force in Rwanda; the Hon. Irwin Cotler, M.P. (Mount Royal); former Attorney General and Minister of Justice of Canada; Juan E. Méndez, United Nations Special Advisor on the Prevention of Genocide; Nobel laureate Wole Soyinka of Nigeria; Martha Minow, professor of Law, Harvard University; and Ben Kiernan, director of the Genocide Studies Program, Yale University. A number of genocide survivors will also be in attendance, offering participants a better understanding of the horrors of genocide.
The conference, organized by the McGill Centre for Human Rights and Legal Pluralism, will also host an International Forum for Young Leaders in the week ahead of the main event. It will provide students from around the world with the opportunity to meet with some of the distinguished speakers and debate key issues surrounding genocide.
Mr. Echenberg hopes that it will produce an active network of students able to contribute to the prevention of genocide and the promotion of human rights, both in their own countries and in the international arena to bring about tangible change.