Grad students explore spaces and art in new speaker series
Marc Losier | The new student-sponsored speaker series Traversing Spaces does exactly that. "We wanted a title broad enough to include the interests of both sides of the department," said series organizer and third-year art history PhD hopeful Jessica Santone, "but specific enough to relate to other academic conference subjects this year."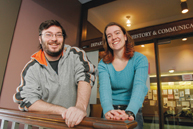 Owen Egan
Initiated by the Department of Art History and Communication Studies' Graduate Student Association (AHCS_GSA), Traversing Spaces has met with success in the early going, and received strong turnouts from faculty, graduate students, and members of the Montreal community.
Started in January 2006, the series "was initially stimulated by a perceived need by students in the department to have faculty members supporting our research in a very visible way" said Santone. "The theme of space is something quite important to both Art History and Communication Studies right now."
After forming last October, the AHCS_GSA quickly recognized the need to provide graduate students with proper outlets for research, presentation, and criticism in order to further their work. Because they do much of their research away from school, a speaker series where students could present research made sense.
Presenters are held to 15 minutes and have so far covered topics such as the radical Fluxus performance art movement of the '60s, Hell in cinema, geographical space within new technologies, and the effects of John Cassavetes's close-ups in cinema, just to name a few. A short question-and-answer session is held after each presentation.
"The speaker series is really about trying to showcase the exciting research that graduate students are doing," Santone said. "We're happy to have faculty members who support our research efforts and our various initatives to make our work more visible to the university community."
The committee also includes communication studies PhD candidates Adam Cantor and Marilyn Terzic, and art history PhD candidates Horea Avram, Tania Perlini, and Krystel Chehab. Cantor, who heads this year's committee, likes the interaction the series is creating between the presenters.
"We all get to know each other better this way and we also are more prepared for conferences" said Cantor.
Santone feels the early success of Traversing Spaces warrants its return in the fall: "Hopefully, we'll continue it next year and try to make this an institution in our department," she said.
Traversing Spaces next presentation, Mapping Borders, takes place Friday, March 17, at noon in room W-215 of the Arts building. Lectures are open to the public and replete with finger food. For the complete schedule, see www.arts.mcgill.ca/ programs/ahcs/index.html.
Traversing Spaces - a look at death and Hell

Courtesy of Warner Brothers
On March 10, in a talk called "Underworlds," second-year art history master's student Tania Perlini asked, "Can immoral works qualify as art?" Perlini put artist John Duncan's outrageous piece "Blind Date" under the microscope. In "Blind Date," Duncan purchases a female corpse in Tijuana, Mexico, has sex with the dead woman and documents his experience. "John Duncan did not just have sex with a female corpse, but, more precisely, John Duncan had sex with a female corpse and made a spectacle out of it," said Perlini. Art or not, the debate is on.
PhD student Adam Cantor followed Perlini with the discussion "Hell in the Movies." A horror movie fan for years, he looked at different portrayals of Hell in cinema. He feels "Hell on Earth" renditions by directors are misleading because "real hell would have to be set in a space that is opposite to what we consider a normality." When asked where he sought inspiration Cantor replied, "I studied the classics, Homer and Virgil, so you see the influences they had on those pictures [horror films]."