Righting a wrong
Law students tackle wrongful convictions in Canada
Erica Zelfand | In 1991, Michel Dumont was convicted of raping a woman in Boisbriand, Quebec. After a lengthy and expensive appeal process, three years in prison, and custodial loss of his children, Dumont was exonerated in 2001. He is currently fighting for compensation for his wrongful conviction, which the Quebec government has so far denied him.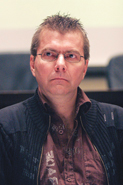 Owen Egan
Dumont is not the only victim of wrongful conviction. In reaction to this phenomenon, law schools in America and Osgoode Hall in Toronto have set up over forty Innocence Projects in North America in which students have worked to free hundreds of innocent people. In May 2005, students at McGill's Faculty of Law created the second Innocence Project in Canada.
Marianna Ferraro, a third year Law student and one of twenty-six members of Innocence McGill, explains the modus operandi of the group: "We review cases of alleged wrongful convictions. We receive applications directly from prisoners and investigate the case to the extent that we can as students." If Innocence McGill deems the victim's case as hopeful, they prepare a 696.1 application, which is necessary for the ministerial review of a case, and seek out a pro-bono lawyer. Because U.S. and Canadian law prevents the re-trying a case, Ferraro explains that "we look for new and fresh evidence that's come up after the trial."
On March 8, Innocence McGill hosted a Conference on the Reversion of Wrongful Convictions in Canada. At the event, Stephen Bindman, special advisor on wrongful convictions to the federal Department of Justice, presented the 2005 Report on the Prevention of the Miscarriages of Justice. The report stresses that prevention of wrongful convictions should be the first priority, explaining that "the miscarriage of justice is usually not the result of one mistake, but rather a combination of events," including tunnel vision, mistaken eyewitnesses and false confessions. The 2005 report offers 40 recommendations for the prevention of wrongful convictions in Canada.
Although the accused in Canada do not face the death penalty, the role of innocence clinics like the one at McGill still have their place. "In terms of the implications it doesn't make a difference - this is justice at the most basic level," said Ferraro. Patrick Healy, Faculty of Law professor and advisor to Innocence McGill, explained, "There is one thing on which there will be universal agreement concerning the administration of criminal justice: that the wrongful conviction of a person is the gravest miscarriage of justice that is possible in our system."
Bearing testament to the gravity of wrongful conviction, Michele Dumont joined students at the conference to share his own experience. He spoke chillingly about prison life: he referred to his cell as a salle de bain, asking the students to imagine spending three years of their lives in a bathroom. Dumont also relayed that as a prisoner convicted of rape, he was stigmatized and abused not only by the outside world, but also by his inmates.
"We are now in a position to recognize that this ghost in the machine is real. It is not a faceless phenomenon: it has names. These are real people," said Healy. Dumont's face was living proof that a change in the system is overdue.
For more information on Innocence McGill, please visit: www.mcgill.ca/innocence.