Gimme shelter
McGill students help provide Indian street children with refuge
Erica Zelfand | There are over 18 million street children in India. They work for low wages in dangerous conditions and are subject to abuse, neglect, malnutrition and exploitation. Yet three McGill students have set out to lend a helping hand. Kaminika Morjaria (U3 Political Science and Economics), Asami Matsumoto (U3 Political Science and International Development), and Livia Ottisova (U2 International Development and Psychology) are the directors of the McGill chapter of the Ashraya Initiative for Children (AIC), a home for street children in Pune, India. According to their mission statement, AIC wants to "help underprivileged children attain economic independence as they approach adulthood, and provide the means for a positive integration into society with a sense of dignity and self-worth, belonging, and a desire to continue serving their communities."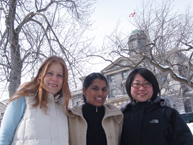 Erica Zelfand
The idea for the project came to Elizabeth Sholtys - now the director of the Emory University chapter - who went to high school with Morjaria in Pune. Both women worked in orphanages in Pune where they not only witnessed how these programs were run, but were inspired to improve these systems. A third friend, Julia Neubauer - who now runs the Princeton University chapter - was the third director to take up the cause. In 2004, the three women created AIC and began planning the home, which officially opened its doors in June 2005.
Childhood hardship inspires action
Once Morjaria came to Montreal to study at McGill, she launched the McGill chapter of AIC. Matsumoto, a friend of Morjaria's through the network of the United World College system, enthusiastically joined the board of directors. Matsumoto explains the personal connection she feels to this project: "When I was growing up in Japan I had family problems and had to stay in a shelter. Since then, I've always appreciated how much NGOs help people that the government doesn't always reach. I wanted to work for an NGO and this opportunity came at the right moment."
Last year, while Matsumoto and Morjaria were in the library discussing their AIC "to do list," Ottisova overheard their conversation and politely interrupted. From that moment she became intensely interested in AIC and eventually became the third director of the McGill chapter. Ottisova even plans to live in the AIC home after graduation this May and in the meantime is learning Hindi.
Here in Montreal, these women's biggest preoccupation - aside from helping children - is fundraising. Besides the classical McGill samosa sales, AIC has hosted movie nights and benefit dinners. This April they will be hosting a benefit concert featuring the local band The Islands.
Shelter is home
And while Morjaria, Matsumoto, Ottisova and their 15 McGill-based volunteers continue with fundraising and awareness campaigning here in Montreal, the home in Pune is running smoothly. A live-in caretaker, native to Pune, watches the children and one of the seven directors lives in the home as well.
There are currently five children living at the home; this number is kept deliberately low. "I've worked at orphanages where there are hundreds of kids and nobody is paying attention to them," says Morjaria. "We decided that if we're really going to make a difference in these kids' lives then we need to make sure they're confident in themselves." Ottisova adds, "We can't institutionalize it too much. We'll grow to a maximum of 15 children to ensure that the home stays a family and that there is a good adult-to-child ratio." To add to the family feeling, AIC legally becomes the guardian of the children they take in.
So who gets to live in the AIC home? Ottisova explains that "A lot of it has to do with the child's history. We work in cooperation with a local social worker." Preference is given to orphans, but more importantly every child living in the AIC home has to want to live there: "It's probably the only prerequisite," says Ottisova.
Matsumoto regrets the conditions that street children in India are forced to endure. "They live like adults, they have to, to survive. But I think children should be allowed to live like children." Morjaria muses: "It's been an amazing experience to learn from them and see how much potential they have."
Check out AIC's benefit concert, featuring The ISLANDS, April 14, location T.B.A. For more info or to make a donation, see www.ashrayainitiative.org or e-mail Kaminika@gmail.com.