Around campus
Wild expectations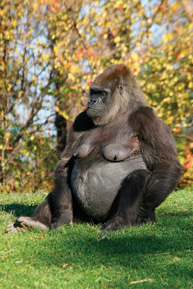 iStock photo
While Ann Darrow's legendary run-in with King Kong was anything but pleasant, real-life activist Bill Weber's first encounter with Rwanda's mountain gorillas was nothing if not memorable.
"For thirty minutes we watched Casimir and his family of gorillas from a respectful distance of fifteen to twenty yards," he describes in In the Kingdom of Gorillas, the book he co- authored with his wife Amy Vedder. "Occasional screams ripped the still mountain air. Powerful smells and strange plants enhanced the sensory stew. We were elated."
Since, the North American Director of the Wildlife Conservation Society has single-handedly reversed the fate of these great primates with his Mountain Gorilla Project - a program combining academic research and ecotourism to protect the animals and create economic opportunities for the Rwandan people.
This month, Weber will be presenting his pioneering research to McGill in a lecture entitled "From Gorillas to Grizzlies - Global Perspectives on Wildlife," which will not only address the fragility of wildlife, but also of humans in the throes of genocide.
Bill Weber's "From Gorillas to Grizzlies: Global Perspectives on Wildlife" takes place Thursday, March 16 at 6 pm in Redpath Museum.
Branding places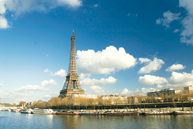 iStock photo
Paris. Rome. New York. Sarnia. Not to pick on Sarnia, but one of these cities has a branding problem. Simon Anholt will be talking at McGill about how cities and nations are perceived and what they can do to boost their image. This will be one of the Meredith Memorial Lectures on "New Approaches to Intellectual Property in a Transsystemic World" held by the Faculty of Law and the Centre for Intellectual Property Policy, over March 17 and 18.
Though Paris doesn't need PR to attract tourists and business (no matter what the city's problems may be), developing areas can hardly lure in travellers and investors if they're seen as war-torn, drug-addled pits of corruption. Branding can be crucial to a nation's growth. Come hear how.
"Place Branding," 9 am, Friday March 17 and Saturday, March 18, 3644 Peel St. See www.law.mcgill.ca/ip/ for more info.
Do the green thing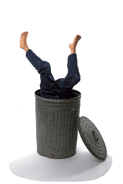 iStock photo
Green. It's the colour of balance, well-being and harmony. It symbolizes innovation and independent thinking. It soothes the brain and, according to Native American folklore, fosters willful living. On March 17, McGill students, professors and staff will come together to define green in more specific - though equally hopeful - ways.
Rethink, the university's environmental campaign, is hosting its fifth annual conference, "The Future Is Now," to elaborate new tactics to make McGill eco-friendly. According to campaign members, "Rethink" is the missing link in the "reduce, reuse and recycle" mantra, encouraging McGillians to educate themselves about environmental preservation in their immediate surroundings. Right down to its shiny red apple logo, Rethink promotes wisdom while actively protecting the university's treasured greenery - like its organic orchards in Mont St-Hilaire.
At this year's conference, campus leaders Vice-Principal (Administration and Finance) Morty Yalovsky and the School of Urban Planning's Jeanne Wolfe will join student clubs like Greening McGill and Gorilla Composting to discuss greener alternatives to our daily routines. From the university's master plan to reduced photocopying, the Rethink Conference will ensure that the 35,00 pairs of feet treading on campus have sustainability on the brain.
"The Future Is Now" takes place March 17, 2006 at New Residence Hall, Ballroom A. Attendance is free but registration is mandatory. For information, see www.mcgill.ca/rethink.
Pizza parlour prodigy performs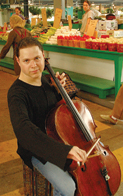 McGill cellist Matt Haimovitz has taken his string to the streets, to grocery stores, and to pizza parlours in order to expose as many ears as possible to the excitement and beauty of classical music. As if mirroring his ragout of venues, he's just come out with Goulash!, a Bartok-inspired album that delves into his Middle Eastern and Romanian roots.
For the next three Fridays he'll be playing with colleagues (including violinist Jonathan Crow and violist Douglas McNabney, with whom he recorded Mozart the Mason) in more usual venues at the Schulich School of Music.
March 17 with DJ Olive and the Constantinople ensemble, his collaborators on Goulash!, in the New Music Building's Multi-Media Room (527 Sherbrooke W.); March 23 with Ellen Jewett and Jonathan Crow, violins, Douglas McNabney, viola,in Strathcona's Pollack Hall (555 Sherbrooke W); March 30 with Jonathan Crow, violin, Stéphan Sylvestre, piano, Pollack Hall. $15/$10, all three concerts $40/$25. For more info call 398-4547.
Gem of a fundraiser

It's blingtime for Centraide supporters! Though the 2005 campaign is successfully over - McGill surpassed its goal of $280,000 - the fundraising keeps rolling. This time with a sparkle in its step at the day-long jewellery and gem sale in the lobby of the Bronfman Building, 1001 Sherbrooke St. W. (at Peel), today, March 16, 10 am to 6 pm.
Afghan ambassador to speak at McGill
As a spokesman for the Afghan government's foreign ministry in Kabul, Omar Samad became known to reporters covering the war-torn country as the bright young multilingual star of a fragile new democracy. Now, as Afghanistan's ambassador to Canada, he's Ottawa's conduit to a people more than 2,000 Canadian troops put their lives on the line daily to protect. Ambassador Samad will be at McGill to deliver the speech, "Afghanistan: Accomplishments and Challenges in Peace-building," about Canada's controversial mission, just days after Prime Minister Stephen Harper's headline-making foray to his country.
Afghan Ambassador Omar Samad, Friday, March 17, 2:30 pm, Faculty Club Ballroom, 3450 McTavish.