Profile
Julie Lafford: Taking you to school
Catherine Paquette | Forensic detectives, Madame Bovary and cyberbullies are bringing McGill grads back to school. Alumni Education Associate Julie Lafford is on a mission: to help alumni further their education outside of the classroom.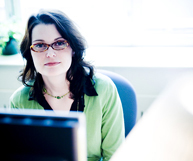 Claudio Calligaris
Since October 2004, Lafford has been part of the Development, Alumni and University Relations Regional Programs four-person team that reaches out to McGill alumni across Canada and around the globe by hosting an array of fun-filled events. She focuses primarily on grads living in Montreal.
"The real connection we have with our grads is primarily through education, so I've tried to revamp some of the older programs and create new ones to enhance that connection and bring more alumni back to McGill," says Lafford. "The position is ideal for me because it's all about learning and helping people learn, and I have always had a passion for that."
Lafford's love of learning comes from her parents, who always encouraged her to keep her curiosity alive and were interested in furthering their education as well. As a teenager, she watched both her mother and father return to their studies. "I remember watching my father study. I'm very proud of him. It took a lot of guts to do that with a family to support."
She was love-struck a second time during her adolescence, when on a trip to Montreal, Lafford fell head-over-heels for the city. Five years later, she left her hometown, Charlottetown, to pursue religious studies at Concordia.
After obtaining both a BA and an MA, and deciding that teaching was not for her, Lafford went through a slew of odd jobs until she decided she wanted something more. She began work at McGill in a clerical position for the Annual Fund, then moved on to Alumni Services, and finally to her current position in Regional Programs.
On an average work day, you'll find Lafford firing off emails and conferring on the phone as she organizes events like the upcoming sold-out panel, "Beyond Hollywood: Forensic Detectives in Montréal," then later spot her riffling through press releases and newspaper articles to keep up-to-date on campus events and initiatives.
So what, exactly, gets Lafford going? If it's interesting, popular and, of course, educational, you can be sure she's on the beat. Take the public conversations series she organizes, sometimes in conjunction with Concordia's University of the Streets Café, and sometimes independently. Lafford selects timely discussion topics, like the recent cyberbullying discussion with Shaheen Shariff.
Lafford also partners McGill with different community organizations like the CBC and the NFB to bring new events to alumni, like last fall's NFB screening of Arctic Mission around the time of the UN Climate Change Conference. The documentary featured three McGill grads as part of the Antarctic research crew and drew a crowd of 250 people.
Her pet project is the McGill Reads Alumni Book Club, which she started last winter. Lafford invites McGill professors to speak, based on the recommendation of department members and club members. The speakers in turn pick books for club members - Lafford among them - to read and discuss. The book club has grown to a membership of 100, with a core group of about 50 regulars who enthusiastically engage, three times a semester, in lively discussions such as those on Flaubert's Madame Bovary, and Calvino's The Baron in the Trees.
"I'm exposed to different types of literature that I never would've looked at," says Lafford. "I keep up my education and learning through my job. That's why it suits me so well and why I enjoy what I do so much. It helps me become a wiser person and that helps me in my job." She pauses, "And I love to read, of course."