Kudos
The Canadian Council for the Advancement of Education has tipped its hat towards McGill many times this year. The university swept up five 2005 Prix d'Excellence awards for a variety of vehicles. Maeve Haldane, Mark Reynolds and Sally Warner at The Reporter are blushingly pleased to hear the paper won gold in the Best Newspaper category. Daniel McCabe of The McGill News also won gold for Best Writing/Article — English. Daniel Chonchol, Kevin Kardasz and Robert Mark had the pleasure of winning bronze for The McGill Alumni Online Community website, in the category of Best Department or Program Site on the World Wide Web. The Faculty of Dentistry projects submitted by Wendy Schilling, however, bests the rest with two silvers. Taking Dentistry to the Streets; Dentistry's Outreach Program, co-directed by Dr. Bruce Dobby and Dr. Yu Kwong Li and Ms. Judiann Stern, won in for the Best Community Outreach Program. The other medal went to the project led by Debbie Larocque, The Dr. Ernest R. Ambrose Clinical Professorship in Restorative Dentistry, in the Best Development Program category.
The five recipients of The Principal's Awards for Administrative and Support Staff have been announced. The Clerical award goes to Sangean Gulstone, Administrative Coordinator, Mental Health Services; Management award to Kathy Wilmot, IST Customer Service Manager, Communications; Library Assistant award to Jennifer Innes, Senior Reference Assistant, Reference Department; Technical award to Colin Lister, Technician, Biochemistry Department; and the Trades & Services award to Antero Branco, Porter, Faculty of Management. The winners will be presented their $5,000 award at fall convocation. See the next issue of The Reporter for an article on the winners.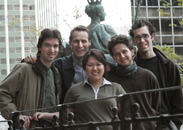 Owen Egan
McGill's Lloyd Carr-Harris String Quartet is the 2005 Grand Prize Winner of the Fischoff National Chamber Music Competition held at the University of Notre-Dame, Indiana. They are the first Canadian ensemble to ever win this honour. They also won the gold medal in the strings category. The quartet will go on a concert tour of the American midwest in October and an Italian tour in the summer of 2006.
Anthropology Professor Fumiko Ikawa-Smith (recently retired) will receive the Order of the Sacred Treasure, Gold Rays with Rosette, in Japan for her contribution toward the promotion of academic exchange between Canada and Japan, and toward greater understanding of Japan in Canada. As she will be in Japan on other business, she will attend the award ceremonies at the Ministry of Foreign Affairs and at the Imperial Palace on May 20. Upon her return to Canada, a gathering organized by the Japanese Consulate will take place in her honour.