AEISEC's practical idealism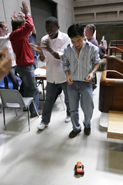 Owen Egan
Pedestrians walking across McGill's downtown campus might have noticed the brightly coloured pieces of paper taped to the ground, each with the cryptic acronym AISEC. No mystery, as microbiology and immunology student Priya Pandian can explain. She is a member of the Association internationale des étudiants en sciences économiques et commerciales (AIESEC) and on the organizing committee for their National Leadership Develop-ment Conference held at McGill from May 5 to 10. Her eyes shine as she speaks about her recent work-exchange visit to India. She worked for a company in Gujurat State that advises students on how to successfully apply to universities in North America, Australia, New Zealand or the UK. She discovered that some Indian families will spend their entire life savings just to get one child admitted to an English-speaking university. "They believe that the streets are lined with gold in North America," she said.
Romita Maitra, who just graduated from biochemistry, is the organizing committee president, and she explained that the purpose of the conference here at McGill was to develop leadership training for the more than 300 delegates from across the country.
AIESEC is the largest student-run organization in the world. It was founded in 1948 after the traumas of the Second World War to break down cultural barriers through international student exchanges. The organization has grown to a global network run by 18,000 students. A roster of impressive international companies such as Coca-Cola, PricewaterhouseCoopers and Procter & Gamble hire AIESEC interns. It's not only businesses that turn to AIESEC: international organizations such as the United Nations also employ students in their development programs around the world.
Azadeh Fartash, a recent McGill graduate and AIESEC member of international development studies, was a trainee in Poland for a UN cultural education project (PEACE) for several months. Her job was to speak with Polish middle and high school students about different cultures, breaking stereotypes, promoting tolerance and trying to convince Poles their country was not as badly off as they imagined and that they could take a leading role in helping less developed places. She wrote in an email from her parent's home in New York, "What surprised me most was the lack of confidence so many students had in their own country. We came across so many who wanted to leave as soon as they could, and yet, from what we could see, Poland had so much to offer."
Fartash described her background as being that of a "global nomad." She was born in Iran and left at the age of two to live in Morocco, Fiji, Pakistan, New York, Albania, Greece and Montreal because of her father's work with the United Nations. She said that her work in Poland combined with her background growing up in developing countries has made her aware of the role of culture in developing a country's economy. She saw first-hand the effects of the transition from socialism to capitalism. "The older generation mostly felt that communist times were better because they were guaranteed jobs, houses, etcetera. However, it is not taught in the schools at all except as the 'bad regime' that they do not have anymore. Young people know nothing about it."
According to several members of the AIESEC conference organizing committee, McGill is unusual because there are more science majors involved than at other university chapters, where it is mostly commerce students who are active. Pandian guesses that science students have so much academic work to do that they end up in a "science bubble" for four years. The appeal of AIESEC for her is the "exposure to the real world" it gives her.
When asked about the pro-corporate agenda of AIESEC in a time when anti-globalization protesters can routinely grab headlines, the committee became quite animated. After some consultation, Pandian, who earlier had laughingly said her roommate refers to AIESEC as "The Cult," agreed to summarize her personal philosophy.
"Fortunately or unfortunately, corporations run the world. That's how it is. If you want to change the world, you have to play by their rules."
For more information, see www.ca.aiesec.org.