Nursing students go to Rwanda
For too brief a time in 1994, the small central African country of Rwanda was the focus of the world's horrified attention as 800,000 Tutsis and sympathetic Hutus were massacred by extremist Hutu militias. Since that time, the country has once more dropped from the newscasts, popping up in the papers only when the next book or movie grabs the public attention.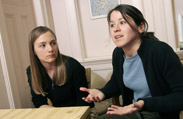 Owen Egan
Annemarie Hoffmann and Maria MacDougall, who are both pursuing their master's degrees in the School of Nursing, have not forgotten. The two will be travelling to Kigali, Rwanda's capital, for two months starting this July. They will be living and working in the Kigali Health Institute, a clinical training facility where they will be working to develop the nursing curriculum.
"We were looking for ways that we could do something for a short period this summer, and the contacts we had said there is actually quite a bit going on over there -- you could do a lot in two months. That started us thinking about what we could do and where we could fit in," said Hoffmann.
The two are not going as part of a formal internship through McGill. Instead, they are participating in projects largely run by St. Francis Xavier University in Nova Scotia, which runs a program called Xtending Hope, and the University of Western Ontario.
The Kigali Health Institute is a relatively young school, having been established in 1996, and received its formal charter in 2002. The institute faces the challenge of bringing modern health practices to a society still recovering from civil war, genocide and an HIV/AIDS infection rate that stands at about 5 percent of the adult population. Training and curriculum development are part of adapting to these challenges.
"They're trying to revamp the nursing that is going on there -- it's very medical-focused, and they're trying to include elements that haven't been included before, like family nursing," said Hoffmann.
"There are some simple things we can help with, such as creating assessment forms and incorporating topics earlier in the curriculum, like HIV/AIDS, which is something that hasn't been incorporated until the last year of their nursing program."
MacDougall said that the seminar-based, self-directed learning that is done in their program at McGill will be useful in Kigali, where many of their interactions will be with their peers -- many of whom are facing a workload that is less than conducive to learning.
"We're hoping to work very closely with the students. We'd like to do some debriefing and use clinical situations to work with students on family cases. We really want to help them take the theory of holistic nursing and put it into practice," said MacDougall.
"When we do a clinical placement, we have two patients. When they do a clinical placement, they have 10 patients, and it's overwhelming. We struggle here to fit what we learn in the classroom into what we see in the hospitals, and they try to do the same thing. We will try to talk as fellow students, not necessarily as clinical teachers. We want to see how they feel their learning could be improved, so when they are developing curriculum, that is taken into consideration."
The chaos that enveloped Rwanda 11 years ago has created long-lasting scars on the economy and infrastructure -- scars that have affected the health care and educational systems as they have every other part of that society.
"The people filling the teaching roles in the nursing facility right now are not necessarily coming from teaching backgrounds. There's been so much displacement and shifting around since the genocide that a lot of people find themselves in positions that are really quite challenging, and they're short staffed as well," said Hoffmann. While she and MacDougall do not have teaching experience themselves, participating in the system and interacting with students may help the institute and their partners identify ways to improve the program.
More importantly, Hoffmann and MacDougall are most interested in making connections with Rwanda and, with luck, encouraging others to follow in their footsteps.
"One big thing we're hoping for is to come back to raise awareness and have more students go over there; and when we're over there ourselves, to see where students or nurses in the Montreal community who would want to participate could. With the French in Montreal and the strong nursing community here, and the developing nursing community there, it's such a natural link," said Hoffmann.
Those wanting to know more or lend support to Hoffmann and MacDougall's trip can contact rwandaservice@yahoo.ca.