Lighting Nicaragua
Artificial Light is such a simple amenity that few among us give it much thought. It is something of a surprise, then, to recall that many of the world's communities could dearly use more of it. Bahareh Seyedi and her student colleagues in the Electrical Engineering Department are not only aware of this need, but are doing something about it.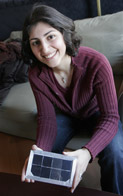 Owen Egan
Seyedi became aware of how lack of light can impact quality of life when she visited Nicaragua last spring. Staying in a rural village, she was struck by the inactivity, and even boredom, that occurred after the sun went down.
In response, Seyedi and a team of engineering students hit on an idea that may bring affordable and ecological light to rural Nicaragua through the use of LEDs, or light-emitting diodes. Infinitely more efficient than incandescent lighting, LEDs have been around for about two decades, and are familiar to most of us as the little red light on our stereos. But it is only recently that the scientific community discovered how to create LEDs that are white, not coloured, and hence capable of emitting light suitable for a workspace.
"The idea is to provide them with some light so that kids can do their reading, women can do some work and so on," says Seyedi, who finished her degree in December. The need for such a basic service is hardly unique to Nicaragua.
"A lot of the world is off the grid," explains electrical engineering professor Andrew Kirk, who supervised the initial portion of the project. "Most of the world lives like our great-grandparents did -- when the sun goes down, you can't work or study."
Seyedi's prospect uses small lamps that combine white LEDs with batteries charged by solar panels. The village that she chose for the project has both a lot of sunlight and a workshop in which local citizens repair and service used solar panels. Seyedi hopes to work in tandem with Nicaraguan engineering students and those at the workshop to bring light to over 100 homes. Last summer, the group together created a prototype of the LED lamps.
"The process represents a sort of a transfer of technology," explains Seyedi, who was also last year's president of the McGill chapter of Engineers Without Borders.
"I wanted to combine tech skills with international development," she recounts, when asked what led her to go forward with such a project. "Just technology is not enough: you need to work in many fields."
This sort of broad thinking has already won international recognition for Seyedi and her team. Recently, they were selected out of 412 teams from around the world to be one of the finalists for the Mondialogo Engineering Award. The final ceremony will be held in Berlin, and awards will be given to ideas that best combine sustainable technology with intercultural dialogue. If Seyedi's team is one of the prize recipients, the money they are awarded will be used to continue to promote light after dark in Nicaragua.