Welcome to new dean
Professor Christophe Pierre has a busy spring and summer ahead of him as he winds up his work at the University of Michigan and prepares to take on his role as McGill's next Dean of Engineering this July.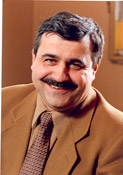 A prolific researcher in vibrations, structural dynamics and nonlinear dynamics, he plans to bring part of his research program with him to McGill.
No stranger to McGill, he is looking forward to joining -- among others -- his mechanical engineering colleague, Professor Michael Paidoussis. He will also be sharing campuses with his daughter, Hélène Pierre, who completed her BA in biology at McGill last year and is now pursuing a certificate in translation.
A native of France, he says Montreal has always held a special place in his heart. His wife, Myriam, and son, Adrien, who will be attending CEGEP this fall, are all looking forward to the move.
Though the leadership role at McGill is exciting in itself, McGill's international status has a particular appeal for Pierre. "McGill and Québec are in a privileged situation at the crossroad between the United States and Europe. I think McGill is uniquely positioned to capitalize on its location in a multi-cultural city and build productive research and educational partnerships with institutions in the US and in Europe."
Because of the interdisciplinary nature of engineering research, he also foresees partnerships with other Canadian and Québec institutions and-perhaps most importantly-with the other McGill Faculties.
Even with the busy end-of-term schedule at University of Michigan, Pierre is finding the time to turn his attention to McGill. "Things are gearing up at McGill already -- and that's good."