Time capsule discovered!
Mark Reynolds | Item number 4369 in McGill Security's lost and found doesn't look like much — a copper box, its surface coloured and darkened by time, so undistinguished it could easily be ignored and forgotten for years.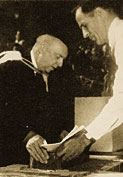 Old McGill 1947/ McGill Archives
And forgotten it was until being discovered by Sergeant Mathieu Racette of Campus Security. With it comes a mystery whose origins go back to 1947.
The box (measuring roughly 6" by 6" by 24") is a time capsule, which Racette found while doing a security patrol near the Wong Building on October 2, 2003. Among the many building stones in the area was one inscribed "Anno Domini 1947."
"It drew my attention because I love history and archeology. When I got there, I saw a big hole on top, filled with water, with the box in it," said Racette.
He immediately recognized the box as a time capsule. He filled out a found object report and brought it into the security offices. As with all objects turned in, it was held for a period of 90 days. Not surprisingly, no one came to claim it, and it was at this point that the investigation into what it might be began.
Director of Security Louise Savard asked Racette to take photos of the area where he found the capsule and speak to the building directors of the Wong and Genome Buildings and anyone else who might know what the box might be.
Initially, Savard said that she thought that they should just open it, but upon seeing the stone from which Racette had taken the capsule, she decided that more information was needed.
Racette then went to speak to Gordon Burr from University Archives.
"I thought it was probably from the Donner Building because how he described it," said Burr.
"Looking at a variety of sources, we were able to ascertain that it looked like something was placed in the cornerstone at the time. We didn't find any information about what was in the container. There was no mention of it in the news reports of the time or in the McGill News."
The Donner Building was McGill's first dedicated research building, built through a donation from the Donner Foundation. The original stone was laid by Chancellor O.S. Tyndale, in the presence of various dignitaries and the Governor General. The building was torn down a few years ago and incorporated into the new Genome Building. Many of the stones from the Donner were used in the Tomlinson Square outside the Genome Building, including the dedication stone, which in the Donner Building had been placed directly over the "Anno Domini 1947" stone that held the capsule on the southeast side of the building.
David Covo, Director of the School of Architecture and Chair of the Architectural Advisory Committee at McGill, said that such cornerstones — and time capsules — used to be very common, and are governed by arcane tradition. He likens it to a Western sense of feng shui.
These stones were usually placed on the northeast corner of a building (Montreal's eastern slant from true north meant that placing the stone on the south-east of the Donner Building was close enough). This placement was chosen so the sun would strike it on June 24, St. Jean Baptiste Day (St. Jean is the patron saint of stonemasons.)
Placing an object in the cornerstone is also an ancient tradition: the Dayaks of Borneo used to crush a young girl under the main support pole of their homes, and the city walls of Copenhagen reputedly hold another unfortunate young female.
The capsule recovered by Racette isn't likely to contain anyone's corporeal remains — it's too small, for starters.
Inscribed cornerstones have fallen out of fashion at McGill. The last one Covo is aware of is in the Law Building, and it says — with no small amount of irony in this case — "Leave no stone unturned." However, a quick walk around campus will reveal many inscribed stones in older buildings, and there's a good chance many of these hold mysteries of their own.
"I suspect there's more than we realize -- the temptation to leave that kind of record is almost irresistible," he said.
Also irresistible is the temptation to speculate about the contents of this capsule. The box weighs a few kilograms. When moved, a soft object of some sort shifts -- documents, wrapped in a cloth? "My guess is that it's a newspaper, the Montreal Star perhaps, or even The Daily," said Covo.
The McGill Archives have no record, but Gordon Burr is still sleuthing. "We're looking at the Board of Governors's minute book, and the next step is to see if we have the Tyndale papers. We don't really have that much other material to go through. It seems to be a bit of a dead end," said Burr.
Could it have been something from William Donner, the American millionaire who founded the Donner Foundation? Curtin Winsor, Donner's grandson, doesn't know.
"I have really no idea — I would be very hopeful that we might open it. It might lead toward some thoughts on the future of the building and on the future of the sciences that were being served," he said.
"I would be very curious, from the point of view of the donor's family, as to what [Donner's] thoughts [might have been], and would be interested to see if there are any new insights to be gained from it. I can't imagine any real reasons for not opening it."
One concern is safety. Opening a box without having any idea of what is inside could be dangerous — just ask Pandora. However, Director of the environmental safety office Wayne Wood said that whatever the contents of the capsule, they are probably harmless.
"I have no concerns from a safety point of view. This was a surgical research building, and they weren't working with radioisotopes in surgery in those days, and from what I know they didn't start producing biological weapons at McGill until the '50s," he said.
"I suspect that there might be a few artifacts or mementos from those days — or a body," he added with a laugh.
There are a number of different ideas under discussion as to how to deal with the capsule. Burr would like to determine what's inside through the records. Covo initially suggested placing the box back in the corner stone, covering it with glass and putting it on display in the Genome Building as a symbol of continuity. "You could argue that buildings come and go but institutions survive," he said.
Racette, who has taken a great interest in the capsule since he discovered it, has another proposal.
"My first idea had been to open it — to read and see what it was, and then reseal it and put it back with a time capsule from 2004," he said.
"That way we could hear the message they had in 1947, and not only comprehend and use it, but pass it on to others with our own message."