Former Supreme Justice made McGill fellow
Mark Reynolds | As he quietly listens to the dignitaries on the temporary stage in the Gelber Law Library's atrium, Charles Gonthier is a picture of the kind of impeccable style rarely seen in North American universities anymore. In a dark suit with a crisply folded handkerchief discreetly peeking out of his breast pocket, Gonthier is a presence that would dominate the room even if he were not the guest of honour.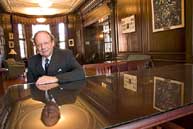 Claudio Calligaris
It's a position that Gonthier is used to. For 14 years, Gonthier was one of the nine justices of the Supreme Court of Canada; for 14 years, this reserved man was one of the select few who were the final word on interpreting the law in this country.
Gonthier was welcomed back to McGill on April 8 at a reception hosted by the Law Faculty, which has named him a Wainwright Research Fellow. It was only a formal welcome -- Gonthier is already elbow-deep in his new work. That work is about as far removed from the fancy hors d'ouevres and wine served at the reception and the crimson robes and oak wood of the Supreme Court as can be imagined.
Gonthier will be using his new position and considerable experience to research the relatively new area of sustainable development law, in conjunction with the Centre for International Sustainable Development Law (CISDL), founded two years ago by McGill students and alumni.
"The fellowship leaves me quite free to do what research I'm inclined to do. It was planned to promote research in the area of private law or civil law, and my special interest at this time is international sustainable development law," he said.
Dean of Law Nicholas Kasirer is pleased to welcome Gonthier, whom he describes as "an exemplar of innovative thinking," to the faculty. He believes that the judge will be an excellent fit at McGill, pointing out that he brings connections to both the profession (Gonthier is counsel with the law firm of McCarthy Tétrault) and all three Montreal-area law schools.
"I describe him as a great academic lawyer -- a person who is at one with, and the same time immersed in, the practical aspects of law, but also mindful of its academic face and aspirations," said Kasirer.
"It's a lovely circumstance where he's taking this great reputation in this classical area of law and applying it in a new kind of laboratory."
Gonthier points out that it might not be such a new laboratory, after all. Although the Wainwright Fellowship is normally in the area of civil law, and sustainable development is most often perceived as an area largely within the domain of national law, he said that sustainable development is something that is affected by all fields of human activity.
"There are two major aspects of sustainable development. The one that attracts all the headlines is the environment. But the other aspect is governance of society, and the governance of diversity in society," said Gonthier.
"This concern reaches right down beyond the law to the way people lead their lives."
Encouraging sustainable development on the level of the individual means using the law to create incentives for people to change the way they live.
"Fundamentally, the challenge is to get people to claim responsibility for what they do -- for their family, for the community around them, for the country and so forth," explained Gonthier.
Often individuals are penalized for taking responsibility in their lives. Gonthier points to politicians: they don't get a lot of sympathy, but those who choose a life of public service are subject to intense media scrutiny and invasions of privacy. Laws to prevent defamation are an example of how that can be ameliorated. Gonthier also pointed to the Quebec government's decision to lift the sales tax on diapers -- a tax that had the effect of penalizing people for starting families.
This becomes particularly relevant in developing countries, and especially in Africa, where loyalties are to the family or community unit, and not necessarily to the state, which is often the creation of a colonial power rather than a natural political expression of its citizens.
Gonthier has attended a number of legal conferences in Africa, including a United Nations Environmental Programme conference on law and sustainable development in Johannesburg, South Africa. He said that Canada's court system, and the country itself, are a model for other countries around the world on these issues.
"Our country is seen as an example of governance of diversity. From the inside we see our problems perhaps more than our accomplishments. People outside have looked to Canada for guidance, particularly to our courts and the administration of justice."
Too often in the developing world, individual sense of responsibility for social problems stops at the immediate family or village level. To change this means making the national state a source of support for its people -- not only in the sense of social security, but also in providing a larger community for the individual. Gonthier refers to a French jurist: "He said all social legislation can be seen as expressions of solidarity, but it isn't everything. There must be fraternity as well, otherwise it is only a system of handouts," he said.
"We have to change within ourselves, as it says in the first article of the United Nations Universal Declaration of Human Rights, the spirit of brotherhood."