Palliative picnic and meaning in illness
The Council on Palliative Care has events for both your body and your mind for Palliative Care Week. The "Hike for Hospice," which is held in several cities across Canada comes to Quebec for the first time. On Sunday, May 2, hundreds of people will perambulate five kilometers around Circuit Gilles Villeneuve on Ile Saint Helene. You can also bring a lunch and have a picnic.
The other event is the seventh annual Sandra Goldberg Memorial lecture "Lessons in Living from the Dying." Dr. David W. Kissane will speak on "Discovering Meaning in Illness and Suffering." Kissane is Chairman of the Department of Psychiatry and Behavioural Sciences at Memorial Sloan-Kettering Cancer Center in New York. His academic interests include group and family psychotherapy trials, studies of existential distress and the ethics of end-of-life care.
"Hike for the Hospice" begins at 10:00 am on May 2, Circuit Gilles Villeneuve, Ile Notre-Dame. Registration begins at 9 am. "Discovering Meaning in Illness and Suffering," Tuesday, May 4, 5:30 pm, Palmer-Howard Ampitheatre, McIntyre Medical Building.
---
Appelez-moi Ishmael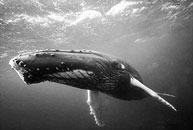 On May 2 all the little Jonahs, Ahabs and Jacques Cousteaus will descend upon the Redpath Museum for the Discovery Workshop for kids on whales -- or les baleines, chez nous.
The kids will learn about all manner of marine mammals, and check out the cetacean-related holdings of the museum.
"We have skeletons on discplay in the galleries, as well as some in the collections area so we'll bring them up," said Franco Boriero, Redpath public educator.
There will even be krill on display, to demonstrate how some whales feed with baleine rather than teeth (like the whale in Finding Nemo.)
The kids will also get to do some whale crafts, and will be able to check out part of a skull of a Bowhead whale -- a sixty foot beast -- found in Labrador. And perhaps you might hear the kids murmur some lines from Melville on their way home: "Yet calm, enticing calm, oh, whale! thou glidest on, to all who for the first time eye thee, no matter how many in that same way thou may'st have bejuggled and destroyed before."
Atelier découverte du dimanche sur les baleines (en français) 1:30-2:30 pm for ages 6-8 & 3:00-4:00 pm for ages 9-12. To register, call Thursdays between noon & 1:30 pm. $6/child (free for parents), Franco Boriero (514) 398-4086 Ext. 4092.
---
Investment tips from a pro
Everybody who feels like they don't need more money, raise their hand. Oh, sit down, Mr Trump. Everyone else may be interested in learning a few tips on investing and starting an investment club. Ralph Rimokh from the investment firm of Scotia McLeod will be speaking at (appropriately enough) the Samuel Bronfman Building on May 13.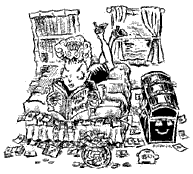 Jack Ruttan
"He's a qualified and experienced investment executive and financial planner that can advise women on their finances," said Diana Lee, events coordinator and chairperson for the McGill Women's Networking Group, which is sponsoring the talk.
"He'll talk about different types of investments and what steps to take to go about starting your own investment club."
An investment club is a cooperative venture where members all contribute research on where to invest members money, either individually or by pooling their resources.
The event is sponsored by the McGill Women's Networking Group, which has been in existence since the early 1980s and is open to all women at McGill -- academics, support staff and students. They organize a variety of talks and events to allow the women of McGill to meet and discuss issues of common concern.
"Investments/Starting an Investment Club" with Ralph Rimokh, Scotia McLeod, May 13 5:30 pm, Samuel Bronfman Building, Room 620. Members free, non-members $3. RSVP by May 10 to Diana Lee, at 398-6986 or diana.lee@mcgill.ca