BOURGUIGNON BEAT
A day on the ol' Macdonald farm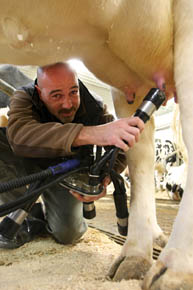 OWEN EGAN
By Michael Bourguignon | The early 21st century is unlikely to go down in history as an especially auspicious time for either cows or cattle farmers. Instead, the record books will show the 2001 European outbreak of hoof-and-mouth disease and a single case of mad-cow disease in Alberta that virtually shut down Canada's two billion dollar beef export industry.
It was no picnic at McGill's Macdonald Campus Farm either—literally—as the facility decided to close the gates to the public, who previously had been invited to stop by for Sunday afternoon tours.
"I was working in Shawville at the time, and a lot of farmers just shut down," recalls Phil Lavoie, who manages McGill's 205-hectare experimental and demonstration farm on the Macdonald Campus in Ste. Anne de Bellevue.
Today, with stringent bio-security measures in place, the Faculty of Agricultural and Environmental Sciences is thinking about reopening the farm to the public, a move Lavoie fully supports as a great way to promote and perhaps demystify exactly what farmers do.
"People are more afraid of things they can't see, but a 12-year-old who comes in and pets a calf for the first time could grow up to become the next leader in dairy research. You never know."
As an ardent believer in demystification, I ask if I can spend a day on the farm, a request Lavoie readily accepts. What time should I show up? He tells me the work day begins at 7 a.m. with the first milking. When the laughter subsides and I'm finally able to speak again, I suggest we meet in his office at 9 a.m. and he can tell me what the good folks on the farm were up to earlier that morning.
When the appointed day arrives, I think it best to fuel up before heading out. Breakfast for me is usually half a banana, two cups of coffee and a long, dry cough. Today, I have three cups of coffee, chomp on an apple and throw down a bagel with peanut butter for good measure.
The first leg of the tour begins in the Donald McQueen Shaver Poultry Complex, where I meet technician Brian Mitchell, who has been working on the farm since 1975 and remembers a time when chickens roamed free "like on a family farm" before Highway 20 was built nearby.
Mitchell takes me through the facility after we both suit up in coveralls and plastic boot covers, one of the bio-security measures. We're subjected to the horrifying collective cackle of 120 roosters before moving on to the somewhat quieter egg-laying quarters and the much kinder, gentler chick pens. Most of the research done here and elsewhere on the Macdonald Farm involves the development of more nutritious animal feed, but this is also a teaching and working farm where 400 chickens produce some 1,500 dozen eggs a week. If the code stamped on your eggs at the grocery store reads "1018," it means they were produced here, Mitchell says.
In the nearby Swine Complex, animal science coordinator Denis Hatcher plays surrogate father to about nine litters of piglets every three weeks until they're ready to go to market. Superior ventilation makes the complex a surprisingly tolerable place. Most of the manure goes onto the fields and, again, much of the research centres on how the animals respond to different mixes of feed.
Next, Dairy Complex supervisor Paul Meldrum introduces me to a few of the 70 cows that provide the equivalent of 8,000 glasses of milk a day. Most are the familiar black and white Holsteins, along with the occasional Jersey, Ayrshire and Brown Swiss. The Brown Swiss are the prima donnas of the cow world, Meldrum explains.
"They think they're better than other cows," he says. "They rarely get sick, they live a long time and they're also the smartest. They're the first to notice when a gate is open, and I've seen a Brown Swiss push a Holstein into an electric fence to test it."
Meldrum and his staff have been testing feed made of Japanese millet to see if its Omega-3 fatty acids transfer to the milk.
The Dairy Complex has won numerous quality awards for its milk, which Meldrum points out "never sees human hands or the light of day." The goal of the Macdonald Campus Farm is to be a leader at the cutting edge of agricultural technology. This is just one small example.
"Our priority is to create a world-class research and teaching facility that serves the research community, exposes students to the best agricultural practices and serves the community as well," farm manager Phil Lavoie had told me earlier in the day.
In recent years, serving the community has involved taking steps to curb the familiar "farm-fresh smell" that non-farming neighbours don't always appreciate.
Soon, Lavoie hopes, it will mean once again throwing open the gates to let everyone discover just how much there really is to appreciate on the Macdonald Campus Farm.
Michael Bourguignon, a media relations officer and intrepid reporter in McGill's Media Relations Office, regularly ventures into the University's lesser-known byways and classrooms to share offbeat experiences with Reporter readers.