Robbin's Ride
McGill students pedal sea to sea for breast cancer research
Michelle Mulder | When you're pedalling across Canada, you expect saddle sores, soggy feet, sunburn and exhaustion. When you're cycling to raise money for breast cancer research, though, those aches and pains seem less acute.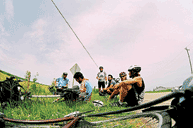 Courtesy of Cyrus Salek
On May 28, four young men who have made this incredible fundraising journey will participate in the Manulife Run for Research at Sunnybrook, determined to reach their $100,000 target by the one-year anniversary of their ride's completion.
The original plan for the fundraising ride took shape in December 2004. Twenty-two-year-old Ryan Richards (political science, Western University) wanted to do something in support of his mother, Robbin, who has been battling breast cancer for 13 years. Richards's buddy from junior high school Sheal Zelunka (anatomy and cell biology, McGill) was eager to help. By March, both men's roommates - Travis Buckley (philosophy, Western University) and Cyrus Salek (biology and humanities, McGill) - were also on board. Their goal was to raise money for the Centre for Research in Women's Health at Sunnybrook in Toronto, the largest centre for breast cancer treatment in Canada, where Robbin was initially treated.
On May 5, 2005, the four third-year undergraduates mounted their bikes in Victoria, B.C., and headed east. Their 7777.7 kilometre ride would take 87 days. They would carry their own gear, cook and camp together, pool their bike repair skills and doctor each others' inevitable physical pains. Six hundred kilometres into the trip, Salek's knees hurt so much that he was biking with one leg. A local doctor recommended that he head home, but Richards's father, a surgeon, said, "My medical advice is to stop biking. My personal advice is to take painkillers."
"He was right," Salek says now. "Thinking about the struggle with breast cancer quietens any complaint you might have. Whatever bothers you during a bike trip is nothing in comparison."
"You learn to just get up and get on your bike, no matter what," adds Zelunka. "Doing a trip like that really teaches you what you can achieve."
The team averaged eight hours and 120 kilometres of pedalling per day. Along the way, they handed out cards, spoke with reporters, appeared on television and collected cash donations for Sunnybrook. Back home, their parents, also, promoted the journey, even standing outside shopping malls with pictures and information. The Robbin's Ride website posted their steady physical and financial progress.
The young men reached St. John's on August 1, 2005, marking the physical end of their journey. To date, Robbin's Ride has raised $88,000 for breast cancer research. On May 28, the mayor of Toronto, the Honourable David Miller, will present each young man with a certificate of achievement on behalf of the city.
Though the physical journey ended nine months ago, the group's fundraising continues. And any day now, another three young men will follow in the young men's bike tracks. The members of the Robbin's Ride 2006 team promise to be just as inspiring as their brave and determined predecessors.
For more information and to make a secure online donation toward breast cancer research, please see www.robbinsride.ca.