Communications teams earn silvers
E-innovation, brochure garner CCAE praise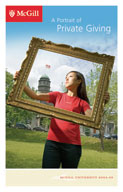 The Canadian Council for the Advancement of Education (CCAE) has given the university's Communications unit two silvers in the annual award round up that recognizes achievements in alumni affairs, public affairs, development, student recruitment and overall institutional advancement. A colourful brochure underlining the importance of philanthropy and a technological gizmo that makes it easy for online donations earned McGill its awards.
McGill's clever use of embedded codes in the Annual Fund holiday email solicitation garnered an award in the category of best e-innovation. Daniel Chonchol, editor of Development Alumni and University Relations (DAUR)' electronic communications, explained that DAUR programmers' technology made online giving to McGill easier. Emails went out to alumni, inviting the recipients to click on a link to see a Flash presentation on the McGill Alumni Online Community site. Afterwards, they could continue to an online giving form (after being asked an identifying question for security) that would have automatically filled out their personal stats such as name and address. "There's been a large increase in online giving overall," Chonchol said. Compare December 2004's $40,000 raised to December 2005's sum of $140,000. Though the leap is not entirely attributable to the new gift codes, Chonchol said, there's no doubt the electronic communications push has led to more donations. Other folks on the team include Brad Skog of the McGill Annual Fund, and Vadim Kudryavtsev, Antoine Pouch, Robert Mark and Mikhail Seliverstov, all from the Development Alumni and University Relations systems unit. Jason Delmarr of McGill's Instructional Multimedia Services designed the Flash presentation.
The other prize was earned in the best brochure category for "A Portrait of Private Giving," McGill's 2004-05 report to donors that was published in September, 2005. The judges praised the report's concept, layout and consistency of theme and elements. The team from the Development and Alumni Relations that put together the report were: Lori Yersh, story line-up; Jennifer Robinson, executive editor; Diana Grier Ayton and Susan Murley, editors; Mark Reynolds, associate editor and chief writer; Daniel McCabe, contributor and Garry Graham for design. The concept told some of the stories of how philanthropic gifts to McGill make an impact, from the Tania Zouikin Arts Internship Scholarship in International Development to the National Bank of Canada's fellowships for master's students to the McGill Student Fund that has dramatically improved libraries, athletics facilites and student services.
Associate Vice-Principal of Communications Jennifer Robinson said, "We are thrilled and very proud. These are prestigious awards that recognize the high quality of our communications, and that pay tribute to the very talented McGill people who make all our communications activities so successful."