Maria Colonna: Juggling three teens and $10 million
Rena Okada | Maria Colonna, winner of this year's Anne McCormick Award for Excellence in the Faculty of Medicine, is a numbers person. That's a good thing, because according to her boss, chair of biochemistry David Thomas, she helps control a budget of $10 million. Yet if you ask Colonna what she likes best about her job as an administrative officer, she'll say, "I like the people best. The students inspire me."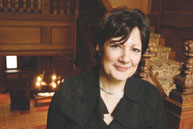 Owen Egan
This busy mother of three teenagers says that working with people, both staff and students, is the most personally satisfying part of her work at the Faculty of Medicine. Her work involves planning the department's budget, dealing with 170 different grants and initiating academic and administrative appointments.
Thomas uses the word "transformative" in describing Colonna's three years of work with the department. He spoke almost reverentially about her abilities to read a spreadsheet and keep financial order in the department. "When the staff learned of her winning the Anne McCormick award, there was spontaneous applause," he said.
Colonna came to work at McGill straight out of high school.
"I don't want to advertise my age," she laughingly said, "but I've been at McGill for 33 years and there are some programs I've worked in that no longer exist." She spent many years working in accounting and in 2002 decided a change would be interesting. She took a temporary position in the Faculty of Medicine that year. "I wasn't sure what I was getting into. The position in the Department of Biochemistry had been vacant for several months and there was no one to show me the ropes. I spent many hours at night and on weekends trying to clean up."
In her personal life, Colonna has become expert in juggling the demands of a busy job and her family. Her son, Justin, is almost 15 and her fraternal twins, Jaime and Jessica, are 13. All three are involved in sports, so she spends a lot of time ferrying them from one field to another.
Colonna was astonished at winning the Anne McCormick award. "I couldn't believe it," she said. "I know there are so many outstanding, talented and wonderful support staff." She was honoured at a special luncheon on Tuesday, May l6.
*article edited for accuracy