On campus
Organic cooperation



Photo: Owen Egan
If you are what you eat, chances are you're a genetically modified South American blueberry wearing pesticide aftershave. If that doesn't fit your self-image, never fear, the student-run organic food co-op is here to give you a culinary makeover.
Organic food is grown without synthetic chemicals, genetic tinkering or irradiation. It also comes at a premium -- until now. The food co-op, as they have almost no overhead are offering cheap, morally fibrous eats to the local community.
How does it work? The co-op runs a table in the Leacock building, Monday to Thursday, 11 to 4, where you can fill out an order form that lists the food and prices that week. Because the co-op sells naturally grown foods what's available depends partly on what's in season, but there is a variety of greenhouse grown fruits and vegetables, as well as organic grains like basmati rice and qinoa.
This past week they were offering locally grown carrots at $0.90 per pound, spinach spaghetti at $1.45 per pound, and organic fair trade coffee at $3.45 for 200g.
Orders are due by Thursday by 5 pm with pick-up the following week. Because the co-op doesn't have its own storage space if you don't pick up your order, it will be donated.
The PR rep for the co-op, a management student called ARRG! told the Reporter that access to organic goodies will continue over the summer if there's interest and enough members around to make it happen. When you make your order, check off the box saying you're keen.
Rock le vote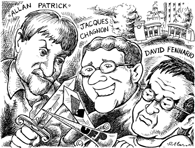 Illustration: Jack Ruttan
The provincial election may not be receiving a lot of attention in the local media because of that you-know-what in you-know-where, but the students of McGill haven't forgotten about our doughty would-be leaders.
The PGSS and SSMU are teaming together to bring the issues to McGill. Four candidates will go head to head on Friday. David Wise of the PGSS explains why they were invited.
"A great deal of the debate so far has focused on general education -- high-schools, CEGEPs and the like. There's been a disturbing lack of discussion about post-secondary education," he said. This event -- which will take the form of a moderated discussion, with candidates debating each other as well as taking questions from the floor -- will allow potential voters to familiarize themselves with the party platforms.
So far Jacques Chagnon and David Fennario, who are the Liberal and UFP candidates for Westmount-Saint Louis (which includes McGill) have confirmed, as well as Allan Patrick who is the ADQ candidate for NDG. The Parti Québécois have said they're sending someone, but no name was confirmed by press time.
Wise thinks that controversial playwright Fennario will add colour to the proceedings.
"The UFP are quite a wildcard -- they have a very radical stance. They're for free education and eliminating student debts. It's the kind of thing that will really stimulate discussion and highlight the disparities between the other three parties," he said.
The candidates debate Friday, April 4, 5:30 pm, Leacock Building, Rm 232.
Joy, mercy and war



Photo: courtesy Penguin Books
Joy Kogawa does not shy away from the big subjects in her novels. Her first book, Obasan, was about the internment camps that housed Japanese Canadians during World War II. She followed that up with a story about the struggle for compensation for the internment. More recently, The Rain Ascends tackled the subject of pedophilia and the church.
"That work has an extremely powerful impact because it's dealing with issues of crimes against the innocent, against the young, and the church's role in it, and how one copes," said Tom LaMarre chair of the department of East Asian studies, adding with some degree of understatement, "She's known as a writer who takes up very important themes and issues."
In addition to conducting a seminar on The Rain Ascends and Obasan, Kogawa will also be delivering the Macdonald Currie lecture, entitled "Mercy in an Age of War." It's a timely topic, and Kogawa will likely be approaching it from a historical perspective.
"I know that she's interested in doing a novel on Nagasaki and the problem of nuclear war and how one deals with that legacy in the contemporary world," said LaMarre.
LaMarre added that Kogawa's visit is an early celebration of Asian Heritage Month in Canada, next month.
"Our department wanted to invite her partly because we don't want to give the impression that Japan, Korea and China are these entities across the Pacific, but rather they are part of our own society in some way."
Joy Kogawa's seminar on The Rain Ascends and Obasan, Monday, April 7, 1:00 pm, Leacock Building, Rm 232. "Mercy in an Age of War," Tuesday, April 8, 5:00 pm, Redpath Museum auditorium. For more information, call 398-6742.
Sound garden
As ye sow, so shall ye reap. For 355 days of the year the good folks at CKUT sow the airwaves with informative, offbeat and entertaining programming. For the next ten days, it is time to reap the rewards: the station is launching its annual funding drive.
Fundraising coordinator Suhrid Manchanda said that this year's target of $70,000 is only a drop in the bucket of what the station needs to survive.
"We do need the money, but it's by no means our entire budget. That represents about twenty percent of our operating budget," he said.
This year, the fundraising campaign theme is to celebrate CKUT as a community garden of sounds, ideas and dreams. Manchanda explained that community gardens provide both nourishment for families and a forum for unity in the community.
The fundraising drive itself will provide a forum for unity for CKUT listeners. In addition to gifts of appreciation for any donation, those who give over $25 automatically enter a draw for prizes -- including a trip to Florida or a DVD player. The drive also affords the disparate community of CKUT alumni and volunteers to get acquainted.
"It's one big, happy family party," said Manchandra, before reconsidering. "Not always happy. Maybe more hectic and crazy and dysfunctionally lunatic, but it stills feels right for all the other dysfunctionally lunatic people here."
For more information, www.ckut.ca/donate.html. Info: funding@ckut.ca. To make a pledge: 398-8991
Lab-lish and clinician-ese
They are the mediators between those who speak "lab-lish" to those whose mother tongue is "clinician-ese." Alright, so the language barriers aren't so mutually incomprehensible, but medical knowledge does need translation from the scientist's bench to the doctor's consulting room.
Enter that little understood creature, the clinician-scientist. These crucial "Translators of Knowledge" are the subject of a day-long symposium on April 10.
Featuring a mix of scientific presentations and lectures, the symposium's goal is to examine the place of the clinician-scientist in the practice of medicine, as well as share current research by MD PhDs. The advent of the technology that allows recombinant DNA experiments has led to the 'clinician-scientist' becoming an endangered species, as more resources and attention has gone to the hard science of reductive biology.
The Scriver MD-PhD Scholarships, which will be formally announced at the symposium, are designed in part to counter this trend. The scholarships are named in honour of the Scriver family of prominent physicians, Jesse, Walter and Charles, who is Alva Professor Emeritus of Human Genetics at McGill.
The symposium is under the patronage of Canadian Gene Cure Foundation and Canadian Genetic Diseases Network and the Canadian Institutes for Health Research. It will feature talks by Charles Scriver, Director of the Innovation Center of Genome Quebec Tom Hudson, and Barton Childs, Emeritus Professor from Johns Hopkins among others.
The Clinician-Scientist: A Translator of Knowledge, 9 am April 10, Montreal Children's Hospital Ampitheatre, D-182A. For information, contact Lucie Brodeur at lucie.brodeur@mcgill.ca