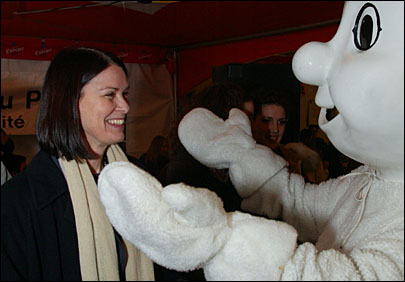 Principal Heather Munroe-Blum gets a warm reception from a cool guy at the SSMU Snow Air Pub on lower campus last week. Euphoric Side Effects was the band, although the principal seemed pretty happy, too. Munroe-Blum has just started her term as principal, and is looking forward to meeting many of McGill's students.
Photo: Andrew Dobrowolskyj
The greening of McGill
Sylvain-Jacques Desjardins
The environment policy McGill adopted last spring was not mere platitides. University recycling efforts are about to receive a shot in the arm thanks to new bins that will be put in every major McGill building. And there's more to come.
Sauvé's dynamic dozen
Sylvain-Jacques Desjardins
Scholars from around the world will be embarking on a new residential program at McGill thanks to the Jeanne Sauvé Foundation. The innovative program is a first for Canada.
Music to the ears
Sylvain-Jacques Desjardins
The reunion show: It's a staple of the rock world, and now it's coming to McGill Music Building. But rather than past-their-prime popsters, this reunion will be the reinvigorated Marvin Duchow Music Library with the rest of the Faculty, after an 11-year stay across the street.
The Bard from books to boards
Maeve Haldane
A hit! A very palpable hit! Wayne and Shuster need not worry -- the Shakespeare Team doesn't play baseball -- but they do almost everything else that concerns the bard.
McGill's Newsmakers 2002
Daniel McCabe
McGill professors and students are congenital headline makers. Our experts are on the speed dials of reporters the world over. Here are some of the McGill people and events that appeared most in the media this year.
Season in the iSun
Mark Reynolds
Ahhh... race cars. The speed. The sleek lines. The roar of the engine.... Make that hum of the engine. Team iSun, McGill's solar car racing crew has a vehicle they are confident can beat the best. Here's how they do it.
Also in this issue

Kaleidoscope
Law student David Nachfolger spent his summer in Geneva. No backpacking around Europe -- he was working for the International Organization for Migration, on a program designed to compensate victims of the Nazis. This will make you reconsider sleeping it off: torpor isn't all it's cracked up to be, at least for chipmunks. Nuts!

On campus
Student journalists invade Montreal, Paule Samson-Finidori opens a new book on art, a seminar series on Gender Power and Social Change kicks off and the Mac lumberjacks and jills have an axe to grind (and throw).