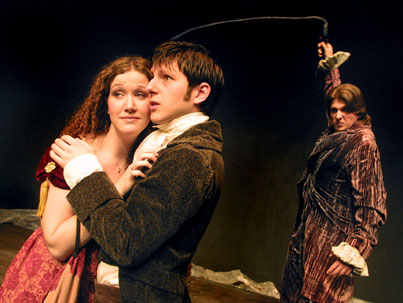 Photo: Owen Egan
Installation celebration
Maeve Haldane
The Installation of Principal Heather Munroe-Blum is an opportunity for McGill to celebrate its future. It's also an opportunity for eight influential education leaders to discuss the place of universities in the modern world.
Slowing down old age
Maeve Haldane
Siegfried Hekimi says that the way to live longer is to stop using oxygen. Well, not quite, but the manner in which our cells process the essential element is a significant factor in limiting our lifespan.
Students sharing science
Scott McRae
While many were sunning themselves on the beaches of Florida, about 100 science students were presenting their research at the third Annual McGill Biomedical Graduate Conference. The conference aims to bring together students from different disciplines who wouldn't otherwise get a chance to interact.
Braille for computers
Maeve Haldane
Vincent Hayward, Director of the Centre for Intelligent Machines has the touch. Or at least, he's helping develop the touch: the engineering professor recently received an award from the Canadian National Institute for the Blind for his research on Braille display devices for sight-impaired computer users.
State of the (European) Union
Mark Reynolds
The European Union will soon stretch from the Iberian Peninsula to the border of Russia, but it is little studied in Canada. Armand De Mestral, as co-director of the Institute for European Studies is working to change that.
Ink-slinger inquisition
Sylvain-Jacques Desjardins
The McGill Institute for the Study of Canada recently brought together some of the top media movers-and-shakers in the country to ask the "Who Controls Canada's Media?" Speakers as diverse as Governor-General Adrienne Clarkson, Terence Corcoran, editor-in-chief of the Financial Post, and Robert Rabinovitch, CBC president tried to answer.
Policy pressure
Sylvain-Jacques Desjardins
Political science professor Stuart Soroka's recently asked 1000 journalists from across the country to find out what they thought media owners' opinion has on editorial policy. The project fits well with his research, which looks at how public opinion affects government policy. He also looks at ethnic makeup and policy.
Heather Munroe-Blum: Local strength, global vision
Maeve Haldane
There's a new sheriff in town, and she's delighted to be here. Newly appointed Principal Heather Munroe-Blum spoke with the Reporter about the importance of higher education, her impressions of McGill, and how the transition to her new job.
Also in this issue
Georges Kopp has one of the hottest jobs on campus -- wielding gas torches that spew flames of 1000 Celsius in a workshop in the basement of the Otto Maas building, molding Pyrex as if it were playdough. Entrepôt is the French word for warehouse, and a new national student magazine founded at McGill takes that name seriously. Entrepôt is a grab-bag of essays, poems and fiction, written by students from across the country.
On Campus: Colleagues honour former architecture professor Norbert Shoenauer, Savoy puts on a witch of a musical with Ruddigore, and you can grow your brain in the psychology department with Charles Gross. Also, Islamic movements and universities are the subject of two upcoming conferences.