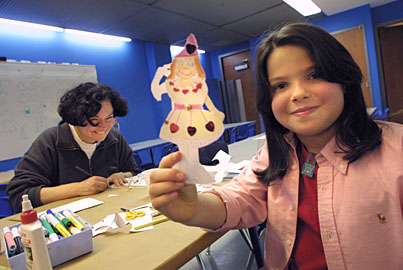 Photo: Owen Egan
Quebec funding shortfall
Mark Reynolds
Quebec universities need $375 million more if they are to remain competitive with other provinces. Structural underfunding affects all areas of university operations, from maintenance to student services to recruitment.
Genetic key to leprosy
Sylvain Comeau
To many minds it's an affliction of the medieval times, but in fact leprosy infects hundreds of thousands of people each year. A genetic component of the disease has been identified by McGill researchers.
A brand new web gateway
Mark Reynolds
Nearly 10,000 McGill web-pages are now more easily accessible to the visually and mobilty impaired. The new look and feel went on-line February 8.
Watching worms wend their way
Tyler Smith
Next time you see an earthworm on the sidewalk after a rain, gently pick it up and set back on the soil. Their name may be synonymous with "humble" but biologist Joann Whalen says they play an integral role in the ecosystem. "Go free little earthworm! Godspeed!"
Academics and activists
Mark Reynolds
Canadians don't often pay much attention to Latin America unless it is for vacation planning. But in the age of globalization, strikes in Venezuela are directly related to protests in Quebec City. A conference at McGill aims to bring together the academics, activists and organizers to discuss "Hemispheric Civil Society."
Parenting in the new millennium
Balbir Gill
Anyone who has ever been a new parent -- or even a babysitter -- has bemoaned the fact that these dependant mini-people do not come with an instruction manual. For a dozen years parents have been turning to McGill's Faculty of Education workshops. This year the theme is "parenting in the new millennium."
Painting the university red
Maeve Haldane
There's no secret handshake, and they aren't planning on taking over the world (of course, they would say that, wouldn't they?) They are the Scarlet Key Society, which recognizes well-rounded individuals who contribute to their community. Society President Andrew Tischler is trying to bring the society back to its former glory. Resistance is futile.
Professor-palooza
From Arabic literature to Jurassic beasties, McGill's new professors are taking the university in new directions. Here's a sampling of the shiny new faces around campus.
Doctors' notes
Maeve Haldane
The worlds of literature and medicine don't often collide, but narrative techniques are a valuable tool for medical practitioners and patients alike. Some McGill professors incorporate writing into their practice and their teaching.
Also in this issue
Stanley Frost is McGill's Boswell, a biblical scholar, historian, former university administrator and now a poet. In his time he's also been a parson, professor and an air raids precautions officer during the Blitz in London.
Also: Ah, to be pierced with cupid's arrow -- not a pleasant thought when it's literal, as with the garden snail. Welcome to the weird world of hermaphroditic, gastropedal -- and very slow -- seduction.
The English Drama program presents opera in the asylum with Cosi while the Savoy society turns slaughter in song with Sweeney Todd. Aspiring filmmakers should break out the clapboards for the Student Film Festival and Jeff MacInnis is taking a break from battling nature to speak at Macdonald's Founder's Day celebration.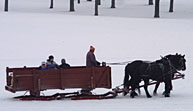 Photo: Owen Egan