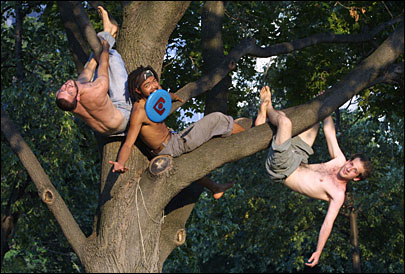 The beginning of a new school year inspires first year students to branch out in new directions and turn over a new leaf. Math, religion and Russian student Jonathan Gallant (left) joined Genki Kondo, who was getting a hands on lesson in his chosen field of the environment, and math and physics student Sam Lazarus, in reaching new heights on lower campus following a frisbee game.
Photo: Owen Egan
Hot in the presses
Maeve Haldane
McGill's had a run of good news lately, having been dubbed "Harvard of the North" by two major college reviews. Kaplan/Newsweek and Princeton Review give reasons why students are applying to McGill in droves.
Indonesian state of change
Mark Reynolds
The latest phase of McGill's Indonesia Project is helping Indonesia rejuvenate their Islamic education system and integrate new technology, democracy and gender equity. The McGill Institute of Islamic Studies and School of Social Work are some of the units rolling up their sleeves in the South East Asian country and in Montreal.
Mini-Med to the max
Sylvain-Jacques Desjardins
The popular Mini-Med series is back! The general public can enrol for eight lectures on medical matters from pharmacology to pathology. Graduates of last year can attend Margaret Somerville's talk on "Ethical Dilemmas in Medicine."
Banish Mars, hail Minerva
Mark Reynolds
Students this year have a whole new way to register for their courses. That pesky phone-based system, Mars, has been retired in favour of the 24/7 online Minerva. Everyone's the happier for it.
Musicality and sexuality
Maeve Haldane
Music History gets a fresh take with musicologist Lloyd Whitesell's ear for queer theory and postmodern knowledge. His vanguard research sparks the gunpowder of the musical canon.
Brains + Teamwork = $
Mark Reynolds
A math newsletter holds a dollars-for-digits style challenge and the McGill team rises to it. Old-fashioned ingenuity and a desktop computer beat out even MIT supercomputer power.
MQUP prank
Maeve Haldane
The good folks at McGill-Queen's University Press show a little largesse by sending our Defence Minister John McCallum some history books. McCallum admitted to being a wee bit shaky on Canadian military history at Dieppe's 60th anniversary commemoration ceremony.
Competitive play
Mark Reynolds
Boys and girls -- puppy dog tails vs. sugar and spice? Educational psychology tests show up their modes of competition at different ages.
Shaping drug delivery
Sylvain Comeau
A delivery system one-thousandth the width of a human hair could be crucial in administering drugs. The trick is in controlling the absorption rates of hydrophobic drugs into the body.
Professional helping hands
Eleanor Brown
Feel your buttons being pushed? Having a tough time adjusting to a recent change? The new Employee Assistance Program can be of help to any staff member of McGill who's juggling career, family and other stressors and feeling a bit overwhelmed.
Boys and girls of summer
James Martin
A look at staff softball at McGill, from lucky green bats to beer, from ball caps to underwear. This field of dreams is a diamond in the rough.
Also in this issue

Editor's note
Freshly scrubbed faces

Kaleidoscope
Web design spinner Eric Smith; Fireworks follies

On campus
Grads just want to have fun; Get your juicy, sweet melons and Macdonald Market; CBC's Ideas picks up a few of our own; from the air photo exhibit extended

A Montreal emergency response biohazard team arrived with their high-tech gear when a mysterious white powder was discovered in a package mailed to the Stewart Biology building on September 4. Initially feared to be anthrax, the powder was examined and discovered to be harmless. The wading pool was for police and fire department officers to hose down in.
Owen Egan