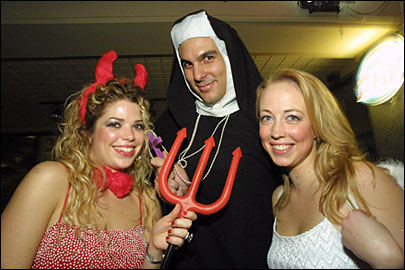 So a devil, a nun and an angel walk into a bar - it's the stuff of a thousand punch-lines, and one costume party. The demonic arts student Courtney Kaiser, computer science student Sister Tas Macropoulos and the cherubic kinesiology master's student Tammy Wickwire were three of a few hundred revellers at Gert's pub this Hallowe'en.
Photo: Owen Egan
University at sea
Maeve Haldane
McGill's latest research facility is currently in downtown Montreal - but over the next year it could be anywhere between here and Newfoundland. Welcome aboard the Coriolis II.
Rugged Rugby
Julie Parkins
The McGill women's rugby team struck bronze nationally and scrums at the top of the charts in Quebec. Learn about the grunts, thumps and feel-good community of this fastest-growing sport for women.
(A not so) bird-brained idea
Ian Popple
Feather-brained, bird brained - usually these are epithets describing a lack of intellectual ability. McGill biology professor Louis Lefebvre said that in fact, our feathered friends are quite a bit smarter than we think.
Student AIDS outreach
Balbir Gill
Aaron Levenstadt is a globe-trotter - the McGill student has been from Barcelona to Bartica. Where? The small town in Guyana was where the McGill Global Aids Coalition, founded by Levenstadt, worked last year to raise awareness of AIDS prevention.
Educating globalizers
Mark Reynolds
Hallowe'en saw thousands of chanting students march through downtown Montreal to show their displeasure with the Free Trade of the Americas Agreement being negotiated in Ecuador. They say the agreement could affect public education in Canada.
Globalizing educators
Mark Reynolds
Globalization is everywhere - international trade, the internet and mass immigration are all part of the phenomenon. The Education Graduate Students Society has organized a two-day conference to examine how and why educators should deal with the inevitable globalization.
Muzzles, megaphones, media
Mark Reynolds
Freedom of speech and academic freedom go hand in hand. But in times of crisis, these principles come under pressure from all sides. What is a university's role in protecting the free exchange of ideas?
Also in this issue

Kaleidoscope
Keith Roche - Man behind the action: This Moyse Hall technician takes us on a tour of theatre tasks and thrills; Foundations - Smoke for health! It was the depression, war was looming, and McGill desperately needed a new gym. A capital campaign was launched, with an smoke-curling twist. Archives volunteer Elizabeth Shapiro explains why we've come a long way, baby.

On campus
Margaret Visser rails against fate, Human Right Watch head Kenneth Roth talks about the "War on Terror", Graphic novelist Ben Katchor describes museum cafeterias, and an auction where the auctioneer doesn't speak a mile-a-minute.

It's that time of year again, when the Reporter showcases the best and brightest teachers at McGill. This year's award winners talk about how they do their magic.
Teaching award winners
Herb Borsuk, Nathalie Cooke, Steve Fortin, Heather Goad, Mainul Hasan, Nicholas Kasirer, Robert Kinch, Michael Makkai, Karl Moore, Charles Roth, Adrian Sheppard, Marcia Waterway, Elizabeth Wood, Edith Zorychta
Engineering Class of '50
The class from the past gives a gift for the future: McGill's new Intelligent Classroom couldn't have come together without some help from our friends.
Principal's four star teachers
These four honourees have a reputation for putting zip into their classes and smiles of "Now I get it!" on their students' faces, even for the thorniest of subjects.
Teaching Soul and Soul Music
Norman Cornett knows all that jazz - personally. The religious studies prof runs an innovative summer class that has musicians performing in a different venue - his classroom.
The COOLest course
David Harpp uses hot web technology to keep students learning at any time, night or day. And they seem to like it.
A meeting of educational MINDs
McGill's collaboration with the English Montreal School Board looks to be a MIND-bending approach for student teachers.
Striving for great teaching at CUTL
The Centre for University Teaching and Learning has some tricks up its sleeve for teachers. Workshops, consultation services and grant information are all part of CUTL services - they want you to check them out.