O'Brien invests in human rights
Jeff Roberts | A new era in human rights scholarship is underway at McGill, following a generous gift by renowned businessman and law school alumnus, David O'Brien. His $3-million donation has created five major fellowships that will be awarded every year to top graduate students from around the world.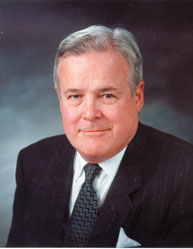 The O'Brien Fellows will arrive as a pivotal source of ideas and energy for the McGill Centre for Human Rights and Legal Pluralism, a major new research group whose creation was approved at last week's meeting of Senate. The centre will see professors and students from the faculties of law, arts and education working together to study the legal and cultural aspects of human rights.
The fellowships gift comes at a time when human rights issues are taking on paramount importance to a world community repeatedly confronted with genocide and conflict. O'Brien's decision to donate was a response to this reality and also a reflection of a priority in his own life.
"I've been a businessman for a long time, but in the last few years I've taken a growing interest in human rights, and have supported the work of Human Rights Watch, an organization that is very active around the world," says O'Brien. "And I'm increasingly interested in Africa, where rights and property issues matter very much right now."
O'Brien's decision to create the fellowships was also inspired by his recognition that a new generation of scholars has emerged who are dedicated to using law, treaties and cultural understanding to promote rights and human security across the globe. Aware of a strong tradition of international law and human rights at McGill, he sought an opportunity to support future leaders in these fields.
"I was aware that the Faculty of Law had a program to encourage first- and second- year law students to do field work in human rights in other countries. I thought it was important that there be opportunities for people to continue in this work beyond the undergraduate level."
The creation of the fellowships program is only one of many contributions that O'Brien has made to education, to McGill and to Canadian society. A native Montrealer who still enjoys strong ties to the city, he graduated from the Faculty of Law in 1965. An expert in banking and negotiable instruments, he would later return to the law school to teach these subjects.
Now dividing his time among Calgary, Toronto and Montreal, O'Brien has presided over some of the country's flagship institutions. Beginning his career in the law firm Ogilvy Renault, he soon became a partner, before eventually leaving the legal world to enter business. There, he had a successful tenure at the head of Canadian Pacific, before moving on to his current position as chairman of the Royal Bank of Canada and chair of EnCana, the country's largest independent oil and gas company.
O'Brien's life experience has given him a particular view of the role of education, and led him to become a supporter of universities.
"I really focus on education because it is a differentiating factor in the progress of a country in the material sense, and also in the richness of its culture and for individuals in their personal development."
The O'Brien Fellowships will allow McGill to advance that ethos. Every year, they will provide the resources to invite young scholars from around the world to join the university in a discussion of how to promote the rule of law in a complex and strife-torn global polity. The donation is especially exciting for the Faculty of Law.
"We salute David O'Brien. His gift will attract some of the greatest young minds from around the world to this university and light up our faculty for years to come," says Dean Nicholas Kasirer. "My expectation is that, in 20 years, there will be a network of O'Brien Fellows setting a new standard for human rights achievements in countries across the globe."
To celebrate the inauguration of the fellowships, members of the Faculty of Law will be hosting a cocktail party on September 30. David O'Brien will be there to mark the event, and to also enjoy a personal anniversary that will come as McGill kicks off Homecoming that weekend.
"I'm not looking forward to the number!" he laughs. "It's my 40th reunion at the law school where I graduated in 1965. It's great fun to get back together - in those days classes were smaller and maybe more intimate and there's a group of people I look forward to seeing very much."