Sports complex flexes muscle
Once "sadly behind," Fitness Centre now among the best
Neale McDevitt | Welders have given way to weightlifters, and joggers have replaced jackhammers. On September 12, the newly renovated Fitness Centre officially opened its doors following the completion of a $5-million renewal project.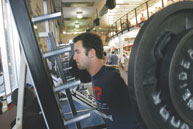 Owen Egan
Prior to the renovations, which began in April, overcrowding was a serious problem in the centre. During peak hours, cardio machines were booked solid and, when walking through the crowded weight room, members often had to bob and weave through a gauntlet of swinging barbells and dumbbells. Having doubled in size to over 10,000 square feet, the new-and-improved Fitness Centre boasts significantly more cardio and weight training equipment, expanded workout areas, extra room to stretch and a high-performance training section.
But the days in which a roomful of weights and treadmills could satisfy the training public are over. Today's more discerning fitness enthusiasts demand a wider, more exotic variety of activities to keep their body - and spirits - finely tuned.
Just down the hall from the centre, martial artists spar and perfect their katas in the 3,400-square-foot combat room. The half-wood, half-tatami mat flooring is ideal for various styles of martial arts, including judo and karate. A large multi-purpose room will be used for spinning classes and other recreational activities and a separate mind/body room will be reserved for the ever-growing number of Pilates and yoga devotees.
Derek Drummond, interim director of athletics, smiles at the surge in popularity of these types of activities. "Twenty years ago, you never would have seen a room for Pilates," he says. "But people's needs dictated what type of renovations we needed."
When Drummond gives a tour of the complex, his enthusiasm is clear. "We used to be sadly behind most of the country when it came to our athletics department," he says. "Now, I think it's safe to say we're right up there among the very best." Even more promising is that, despite the incredible improvements, there is still room to grow and get better. A varsity weight room is under construction and plans are underway to construct a new golf room.
And the facelift won't stop there. Drummond plans to install air conditioning in gymnasiums, training halls and the Tomlinson Fieldhouse. "Earlier this summer, the Canadian basketball team played Angola here and it must have been 35 degrees," says Drummond. "Obviously, that's an issue we need to address."
Drummond points out that every penny for the renewal project has come from private donations. "Of course, there is Dr. Tomlinson," he says. "But don't forget that the students have been major, major contributors over the past 20 years. Obviously, most students who made donations are no longer here to enjoy any of this-that's philanthropy at its best.
---
Derek Drummond fills big cleats
When asked how, after a career as a professor of architecture, seven years as vice-principal of development of alumni relations, and 17 years as the director of the School of Architecture, he ended up as the interim director of McGill athletics, Derek Drummond flashes an easy smile. "I blame it on my total inability to say no," he laughs.
Drummond, who began his one-year tenure on September 1, has big cleats to fill, replacing Bob Dubeau, a man who had run the athletics department for almost 29 years. Despite having to replace a near-legend, the affable Drummond doesn't seem the slightest bit insecure, giving Dubeau full praise for the state of the department he inherited. "Everything you see around you," Drummond says of the recently completed renovations of the sports centre, "is a result of Bob's work."
A former champion squash player himself, Drummond is particularly impressed by student-athletes. "They are terrific kids," he says. "They have to fulfill the same tough entrance requirements as regular McGill students. They don't get any favours."
Of course, that same quality that makes McGill student-athletes such rare gems, makes it increasingly difficult for the varsity teams to compete on a level playing field. "Recruiting is really tough," admits Drummond "because we don't even bother talking to the 7"6' basketball player with a 62 average. He just won't get into McGill. However, we will meet that same young man again on the court playing for another school."
Nonetheless, McGill has always enjoyed great success in a number of sports including men's and women's rugby and, in particular, men's and women's soccer.
Win or lose, Drummond has a soft spot for varsity athletes. During a recent luncheon, the new athletics director pledged to watch every single one of them compete at least once this year.
Drummond's office is on the main hall of the sports centre and the door is rarely shut because he likes the hustle and bustle as people come in and out of the building. Walking through the complex, he greets workers and students alike. "I'm a people person," he says, waving to a basketball player on his way to the gym, "so this is a dream job for me."