Around campus
McLennan illuminated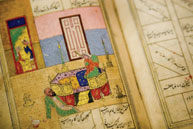 The exhibit Celebrating Scribes, Scholars and Conservators: An Exhibition of Arabic, Persian and Turkish Manuscripts in the McGill Library is a celebration not only of the manuscripts, but also of their preservation. Volunteer bookbinders and conservators from Les Amis de la Reliure d'Art (ARA) have constructed 60 custom-sized boxes to protect these ancient Islamic manuscripts from the stresses of shelving and transport, and from the effects of sun and moisture.
The display showcases manuscripts dating from the 8th century to the 19th century, many with lush gilt illuminations and lacquered covers. Panels describe the various materials and inks used, the transformation of Arabic script, and changing attitudes toward calligraphy and manuscripts. For example, Islam first prohibited the decoration of the Qur'an with colored ink, but it eventually became the most prevalent way to honour the religious text.
The display contains only a fraction of McGill's collection of 670 volumes of manuscripts and 280 fragments and illustrations.
Curator Adam Gacek, head of the Islamic Studies Library, loves the writing tablets, which are still used in some primary schools as an aid to learning penmanship; some were used as amulets for good luck. Illuminations in manuscripts came to resemble the shape of the writing tablet, with a round handle or knob at the top, sloping down to the rounded rectangular body of the text.
The exhibit can be viewed through November 30 in the main lobby of McLennan Library, Monday to Friday 8 am to 10 pm; weekends 10 am to 6 pm.
Remembering amnesia saga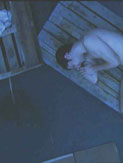 It was a sensational news story that seemed torn from a movie script - except it was real. The year was 1998. The story was that of a man who claimed to have woken up amnesic and naked in a deserted Montreal parking lot.
After a stint in the hospital, he called a queer listening and referral service, Gay Line, to share his story. Eight years later, those real-life events are hitting cinemas as Amnesia: The James Brighton Enigma.
Gregg Blachford, director of McGill's Career and Placement Service, played a central part in the drama. Blachford, who's been a Gay Line volunteer listener for 13 years, remembers, "The only thing that he was certain of was that he was gay." Blachford agreed to house Brighton and help piece his life back together.
A U.S. TV tabloid, Hard Copy, later revealed that Brighton's true name was Matthew Honeycutt. He was arrested by Montreal police for public mischief.
"The media, which had previously treated him sympathetically, turned on Brighton and called him an imposter," relates Blachford. "Gay Line, and many of those who met him, resisted that interpretation."
An advance screening of the film will be held at 7 pm Monday, Sept. 26, at the Cinéma Quartier Latin (350 Emery St.). All proceeds will go to Gay Line and Gai Écoute. $15 at the door, or in advance at Boutique Priape (1311 Ste-Catherine St. E.). The film goes into general release on Sept. 30. www.amnesiathemovie.com.
March of 1,000 umbrellas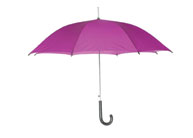 On October 4, rain or shine, grab your umbrella, gather your friends and join the members of the McGill Centraide Campaign Committee to kick off this year's Centraide Campaign in the "March of 1,000 Umbrellas," a parade that travels along Ste. Catherine. Centraide is an "umbrella" organization that funds 340 agencies and projects, helping over a half million people in need.
In previous years, McGill has been woefully outnumbered by supporters from other universities, so sport your McGill colours, open your "bumbershoots," and exclaim loud and clear that McGill cares about those in need.
Ste. Catherine St. will be closed to traffic, lined with spectators, mascots, clowns and musicians, and festooned with balloons and umbrellas.
Everyone from the McGill community is invited. See you at the Roddick Gates at 11:45 am sharp, Tuesday, October 4.
See www.mcgill.ca/centraide for info.
Public experiments, private doubts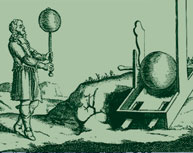 From recalls of high-profile pharmacology to Mars probes that go missing in action, public faith in science has taken a battering in recent years.
Trust in the sciences, according to many observers, has been in decline for some time, leading to calls for science to be made more open, transparent and responsive to public skepticism and interest. Renowned science historian Simon Schaffer will address the public perception of the sciences and explore historical approaches to their authority in his lecture, "Why Trust Public Experiments? An Historical Perspective."
Schaffer, professor of the history and philosophy of science at Cambridge, was invited to deliver the D. Lorne Gales Lecture in the History of Science, fresh from winning the prestigious Erasmus prize with Steven Shapin, his co-author of 1985's Leviathan and the Air Pump.
"That book, more than any other, has re-made the field," says James Delbourgo, McGill's program chair of history and philosophy of science.
"[Schaffer] is one of the foremost writers in the field today."
Delbourgo has great enthusiasm for Schaffer's abilities: "He's an electrifying speaker, a brilliant man, and a wonderful performer."
Simon Schaffer, Monday, September 26, 5:30 pm, Palmer Lecture Theatre, McIntyre Medical Building.
Parents of Pi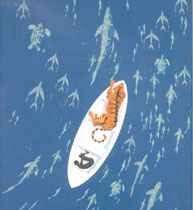 Veteran translators of more than 20 books and former Canadian diplomats, Nicole and Émile Martel needed both skills - translation and diplomacy - when they undertook the task of translating their son Yann's novel Life of Pi into French in 2003. The novel, about a young boy in a lifeboat with a Bengal tiger, took the literary world by storm in 2002 when it won the prestigious Booker Prize.