In focus
Anita Cotic: Video and the radio star
Anita Cotic's job is challenging, varied and, well, just plain fun. In the last year, she has video-streamed new medical procedures across the country and attempted to pin a microphone onto a wary Jacques Parizeau. On other days, she has listened to lectures by renowned academics and helped undergraduate students make their first movie.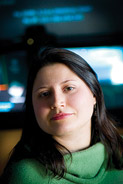 Claudio Calligaris
Cotic is an assistant producer with McGill's Instructional Multimedia Services (IMS), which is the new incarnation of what many on campus know as ICC. A technological jill-of-all-trades, her job requires her to work as a director, videographer, editor, researcher and trainer. Perched high above Sherbrooke Street, Cotic and her colleagues act as the digital nerve centre for the McGill community downtown and around the world.
"We help professors, students and staff produce educational media," explains Cotic, a Cultural Studies graduate from McGill. "Sometimes it's on a small scale, like digitizing a document, and sometimes it's on a very large scale, such as filming the principal's installation or convocation."
These large events are often the most fun. "Convocation is sort of like the Oscars for us," she says. "There's thousands of people, many cameras and screens all around you."
So has her team ever succumbed to pressure and made a major faux pas while filming?
"Not really," laughs Cotic, "though we have to make sure we always know whose microphone is on. I have to remind people wearing wireless mikes to turn them off when they go to the washroom -- if they don't, it can be pretty embarrassing." Although this has never happened on Cotic's watch, she learned about the hazard from a ceremony guest who had, well, made a splash at a previous event.
While Cotic's job has a touch of pageantry, her primary responsibilities are associated with education. The recent proliferation of audiovisual technology has allowed Cotic and her team to assist professors in hosting video conferences with their counterparts on other continents, and to discover new and creative ways of disseminating research and services. Among the most rewarding of these projects for Cotic was an initiative to improve medical access for the deaf community. Using video conferencing, the IMS team was able to bring together a deaf patient and his physician with a medical sign-language interpreter in New Brunswick.
Students, too, benefit from the ever-evolving technologies of the IMS. The office's video editing suites are regularly booked by undergraduates making movies and documentaries. A recent highlight for Cotic was helping a group of social work students produce a film about the Montreal community group Santropol Roulant.
"It was amazing," she remarks. "When they came in they weren't even clear what video editing was. But when they finished, they had produced a really outstanding documentary."
While she is educating the McGill community, Cotic enjoys the opportunity of enriching her own learning at the lectures and conferences that she films. Her job regularly allows her to attend talks and events featuring luminaries like John Ralston Saul, Queen Noor of Jordan and renowned director Peter Greenaway. "It's like getting a degree in every discipline, and I even get paid!" she says.
Her job also takes Cotic into the hurly-burly of the political world, where she has recorded events that have featured politicians such as Lucien Bouchard and Jacques Parizeau. The latter was decidedly prickly when Cotic was charged with attaching a microphone to his jacket. "When I miked Parizeau, right away he was like, 'What is this?' I guess he's had some unpleasant experiences with microphones in the past."
A definite plus of Cotic's position is that it dovetails nicely with her personal interests. Outside of work, the easy-going 30-something enjoys recording technologies of all sorts, including her large collection of vinyl, with its "snap, crackle and pop kind of sound that you just can't find on CD or MP3." Her other toys include turntables and an old-school walkman on which to play her '80s tapes.
Cotic's success as a woman in a technology industry dominated by boys has led her to continue her old CKUT radio show called "XX Files." on which she profiles tech-savvy women. "It's about women using and abusing technology. I can't believe it's been going on about 10 years now —we always joke that we'll end the show as soon as the rest of the media gives enough coverage to women and technology."
Hear "XX Files" Wednesdays from 11:30 to noon on CKUT 90.3 FM and www.ckut.ca.
The politicians and employer representatives, instead of exploiting the advantages the law clealy gives them, ought to take a deep breath and try a little harder to freely bargain a settlement.
Extreme makeover, Canadian style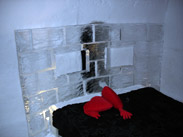 David Covo
At least McGill architecture students didn't have to worry about where to put the thermostats when asked to design their hotel rooms. The students were working with pure water in their construction, albeit in frozen form, for three "cool" theme rooms at Quebec City's Ice Hotel. The hotel is built entirely of snow and ice and rooms are available to rent until the spring thaw.
Designing rooms out of ice presented a unique challenge for the students. The frigid matter adapts to any form, from severe angles to rounded corners, and to any colour, clear or cloudy.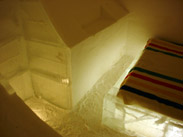 David Covo
The Ice Hotel has been built every winter since 2000. It is constructed out of 12,000 tons of snow and 400 tons of ice, and has 32 rooms and theme suites. The temperature inside the hotel is between minus two and minus five degrees Celsius at all times. (Hot showers are available in seperate quarters.)
The three McGill rooms are the Cranberry Room (designed by Tamara Hains, Nazia Aftab and LeeAnn Croft), the Elliptique Room (designed by Vedanta Balbahadur, Peter Sealy, Po Suen, Mathieu Larouche and David Bédard-Barrette) and the Love Shack (designed by Colin Hanley, Nick Chan, Lisa Allard and Louise Koo). Too bad all the effort will just melt away in the spring.
For more information on the Ice Hotel, go to www.icehotel-canada.com/en/index.en.php.
Media forms and practices have played a role that has been undervalued and understudied. For example, 30 years ago, concern for the environment was highly specialized and politically marginal. Today, awareness of environmental issues has been generalized to the point where no major public or private endeavour is possible without taking these issues into account.