On campus
Sweetie pi
Sure, mathematics and love may make strange bedfellows -- just don't be caught suggesting this in Burnside Hall.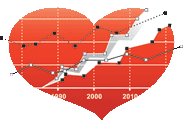 Tzigane
But if you're planning to pop the big question to your sweetie on Valentine's Day, or if you've caught yourself giving your ring finger thoughtful looks, make a point of attending The Cutting Edge Lecture in Science at Redpath Hall.
Professor Rebecca Tyson, one of five coauthors of The Mathematics of Marriage, will cut through your love-crazed state with her presentation, "Marriage by Numbers: Predicting Happiness."
Slate says The Mathematics of Marriage "neatly presents marriage as a process both mathematical and unpredictable, both stable and prone to catastrophe." If that doesn't appeal to all you grooms and brides, perhaps you will be intrigued by the application of mathematical models to our day-to-day life.
Tyson works with a model that tabulates negative and positive statements (and sub-statements) couples make while talking together. Says Tyson, "The conversation is turned into a string of positive and negative numbers which represent the level of positivity and/or negativity present in the conversation over time."
Given today's dispiriting statistics on divorce, Tyson's website, with its stories documenting her calculations in everyday situations (such as "Keeping the Guests Dry -- Math in my Life #6," which refers to her own wedding) reassuringly shows evidence not only of academic accomplishment, but also of a positive, breezily pragmatic take on math and life.
So go on and go for it -- the lecture, that is: Redpath Hall, Thursday, February 10, 6 pm. Visit Tyson's web site at people.ouc.bc.ca/rtyson/.
Town Hall -- oyez, oyez!
Principal Heather Munroe-Blum takes the stage once more in the second of her Town Hall appearances. Following up on November's event in the McIntyre Building, Munroe-Blum will be taking your questions, comments, concerns and suggestions in the Bronfman Building on February 4.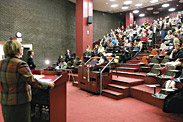 Owen Egan
Questions raised at the last Town Hall addressed everything from McGill's overall environmental policies to specific questions about the libraries. If you're a staff or faculty member or student and you have a question for the Principal, this is your chance.
Friday, February 4, Bronfman Building, Rm 151, 12:15 pm to 1:30 pm. Brief remarks followed by a question and answer period.
UN envoy speaks at Mac
Sir William Macdonald was a man of many contrasts. Schooled only to the age of 16, he was probably McGill's greatest benefactor. He made his millions in the tobacco business, but was a passionate anti-smoker himself.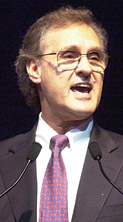 In addition to getting a number of buildings and an entire campus named after him, the old man's birthday is celebrated annually at Macdonald Campus. Classes are cancelled from 10 pm to 1 pm on February 10 in his honour. This year is the 174th anniversary of little Willie's birth in P.E.I. (he died in 1917).
Each year the campus invites a keynote speaker for Founder's Day. This year Stephen Lewis, UN Special Envoy for HIV/AIDS in Africa, is the featured guest. His talk is titled "Where in the World is the World Headed?" Lewis is a former politician, as well as a former ambassador for Canada to the UN and deputy executive director of UNICEF. In 2003, he was appointed a Companion of the Order of Canada. Recently, he created the Stephen Lewis Foundation to help ease the pain of HIV/AIDS in Africa.
"Where in the World is the World Headed?" Stephen Lewis, 10 am, Centennial Centre, 21111 Lakeshore Road, Ballroom. For more information, call 398-7707.
Jazz for Tsunami relief
The efforts to support the relief and reconstruction efforts in tsunami-hit Southeast Asia continue with an afternoon of jazz at the Unitarian Church of Montreal.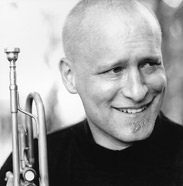 CF-Wesenberg
Featured on the bill will be Avalon Motel and the Kevin Dean Quartet. The latter group is entirely a McGill affair, with Dean on trumpet, André White on piano and bassist Alex Walkington. All three are McGill music professors, and drummer Michel Berthiaume is a graduate student in the faculty.
In addition to the tunes, listeners can indulge in home-baked goods and coffee, free of charge. There is also on-site babysitting. If all of that isn't enough to convince, consider this: the money raised at the event will go toward USC Canada, which will use the money to support the emergency activities of their existing local NGO partners in Indonesia, YAPPIKA and WALHI. They in turn are helping provide food, water and sanitation, shelter, health services and nutritional assistance. The coalition is supporting 200 volunteers and doctors in Aceh, visiting many of the sites where victims come for assistance.
Sunday, January 30; first band at 1:30 pm, second band at 3 pm.
At the Unitarian Church of Montreal, 5035 de Maisonneuve Blvd. West; metro Vendôme. Minimum donation of $20. For more information, call John Inder at 251-1777.
State of health, health of state
Good health is about so much more than merely treating disease. Genetics, behaviour, environment all play a role in our overall state of being. But one factor to the health of people is elusive to define, yet crucial: social conditions.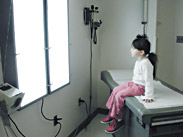 istockphoto.com
Inadequate social conditions and poverty can indirectly lead to ill health, through lack of access to education about healthy choices and knowledge about how to lead a healthy lifestyle. Government, educators, health care practitioners and the business community all have a role to play in keeping the body of the individual sound.
McGill's public event "For Quebec's Good Health: Vision, Education and Action" will examine the factors that contribute to the state of health. André Chagnon, of the Lucie and André Chagnon Foundation, will speak on a topic he holds dear, the prevention of poverty -- starting as early in the life cycle as possible by aiding pregnant women and young families -- and the role different actors can play in promoting good health.
A roundtable with Dean of Medicine Abe Fuks and management professor Laurette Dubé will follow, directed by Jody Heymann who has spent over a decade researching health issues of working families and their children. She is currently at the Harvard School of Public Health, and will join McGill's faculty this summer.
Wednesday, February 9, from 4 pm to 6 pm, at the Charles F. Martin Amphitheatre, 6th Floor, McIntyre Medical Sciences Building. Refreshments to follow.