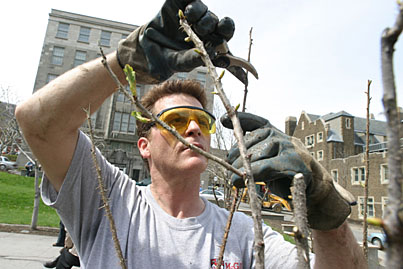 Photo: Owen Egan
New building for Arts
Maeve Haldane
Though the university is a while away from breaking ground on the project, the Faculty of Arts recently unveiled the conceptual design for a new building that will add needed office and classroom space to campus.
Ship of schools
Mark Reynolds
Canada is reinvesting in Arctic researchers, outfitting a Canadian Coast Guard icebreaker to conduct research in the Mackenzie River delta. Biologist Neil Price and Geochemist Alphonso Mucci will be gathering data on the mission.
Margaret Atwood: Back to the future
Sylvain-Jacques Desjardins
Author Margaret Atwood was named the McGill Centre for Teaching and Research on Women Person of the year. She took time out of her schedule to chat with the Reporter about the scientific reality behind her nightmarish new book Oryx and Crake.
Masi appointed to new position
Anthony Masi has been appointed Deputy Provost and Chief Information Officer. He will be responsible for the coordination of university planning and analysis.
New Dean of Arts
Sociology professor John Hall has been appointed Dean of Arts. He starts his five-year term June 1.
How to read, listen and learn
Balbir Gill
Education professor Helen Amoriggi said that with new technologies leading to information overload, students may need to read 1000 words a minute in less than twenty years. That means we're going to have to change the way we teach study skills.
PR pros
Mark Reynolds
The Public Relations Certificate Program in the Centre for Continuing Education is breaking new ground in how it organizes its curriculum, and the effort is getting noticed.
Turning drug design on its head
Jan Cooper SPARK WRITER
Structural biology professor Albert Berghuis has a new way to take on a wily opponent: he is trying to beat drug resistant bacteria at their own game.
MBAs help plan Kahnawake Library
Ed Kromer
The Mohawk Reserve of Kahnawake has a new library, thanks to the efforts of the local community and a little help from a team of McGill MBA students.
Senate, plaudits and discipline
Mark Reynolds
There are new faces in Quebec City, and new a new title for VP Anthony C. Masi. The Dean of Students tabled two years worth of student discipline reports.
Minding the body at McGill's Sports Medicine Clinic
Maeve Haldane
The sports medicine clinic is a multidisciplinary medical team, specialists from physiotherapists to doctors to osteopaths on staff. If you've broken your hip in a rugby scrum or bruised your butt while snowboarding, they are there to help.
Also in this issue
It's a long journey from Whitehorse to Athens, but Jeane Lassen is well on her way. The McGill education student is a world-class weightlifter, with a rack of medals and records to prove it.
As if dating weren't pressure filled enough, now we have speed dating. A McGill student has established the world's first student speed dating service. Be ready to talk fast.
The McCord Museum gets political with a theatrical examination of health care, and the MacDonald-Harrinton turns into an art museum filled with a painter's examinations of McGill. The McGill University Community Sustainment project, which aims to create a sustainable urban residence for students, needs volunteers this summer. Conflict resolution expert Vern Neufeld Redekop launches his new book.