Fruitful exchange on teaching
BRONWYN CHESTER | It was a rock and roll kind of week last week on campus when it came to the subject of teaching. But the rock of anger felt by many undergraduates over large class sizes, inadequate office hours, impersonal treatment and sometimes just plain bad teaching, seemed to convert easily to a roll of conciliation and dialogue with professors and administrators, if the two forums held last week are any indication.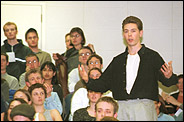 PHOTO: OWEN EGAN

Galvanized by the volley of letters, published in the McGill Daily and The Gazette surrounding the departure at the end of term of popular history lecturer Jeffrey Kuhner, a group of Kuhner's students organized the forum after history professors Gil Troy and Alvin Riggs made the suggestion. Troy and Riggs, both professors of American history (as is Kuhner who is currently replacing Leonard Moore), hoped to clear some of the bad feeling in the department created over Kuhner's disappointment that the University could offer him an extension of one year, rather than the two he had wanted.
The result, a week ago last Monday, was an outpouring from many of the roughly 350 students that crammed into a McConnell Building amphitheatre. After a three-minute message from Troy on "how to make it better," and from Kuhner on the subject of "loss of school spirit" in "the finest university in North America," the floor belonged to the students.
The testimonials were both positive and negative and many had suggestions for improvement. Pleased with the accessibility of his teachers, one student commented that "some even give out their home phone numbers." Another complained of having to wait three and a half weeks to see an advisor. "It feels like the school is not on your side."
Several students expressed their frustration at the constantly repeated refrain of money being the explanation for teaching that fails to inspire. Andrew Kovacs, president of the Science Undergraduate Society and a forum organizer, said that one of Kuhner's traits that make him so appealing to students was his way of speaking up to them: "He inspires his students, saying things like: 'When you graduate from McGill and go on to become academics ...," said Kovacs, who believes there's not enough of that sort of encouragement coming from professors.
Some students had practical recommendations for consistently poor teachers. "If a prof has bad student evaluations for three years running, he or she should be obliged to seek help from the Centre for University Teaching and Learning," said one student. Another recommended that sabbaticals to improve teaching be considered just as they are for research. While still another wondered if the administrative duties of faculty couldn't be reduced in the 40:40:20 (teaching, research, administration) breakdown to allow more time for teaching.
Suzanne Morton, chair of the history department, noted that in the Faculty of Arts, many of the recommendations made by students are already in effect. Candidates for teaching positions, for instance, must give a lecture and submit a teaching portfolio both to be hired and to be promoted or considered for tenure. Student evaluations of teaching also play a critical role. Morton too lamented the size of classes.
"We desperately need positions," she said. "At this point we have to protest to the government because we're very limited in what we can do."
The passion on the subject of teaching, exuded by so many, was a wonderful thing to one U3 student. "This isn't the McGill I've known," she said. While Mark Shields, a lecturer in religious studies for the past three years, concurred with Kuhner regarding "the spiritual crisis" at McGill -- but not in teachers, in students.
"I've had students say to me they don't care about the quality of teaching. They just want to get into medical school," he said, telling the gathering that "the more enthusiasm we [lecturers] see, the more enthusiasm we're likely to have."
As the crowd filed out, Riggs could be heard to say that he hadn't "seen anything like this since McGill français."
The following day, all students received an e-mailed apology from Principal Bernard Shapiro for not being able to attend -- he was in Quebec City meeting Premier Bouchard to discuss reinvestment in McGill -- and he thanked "those responsible for having arranged and participated in the forum." He also encouraged "the dialogue on this crucial issue of the quality of teaching at McGill."
The dialogue did, in fact, continue. Last Friday, the Arts Undergraduate Society held its own forum. While othe meeting was small -- most were faculty members, including Dean Carman Miller -- the quality of exchange was not. When one student complained of a professor so poor that she no longer attends the class (finding her textbook interchangeable with the lecture contents), Professor of Anthropology Michael Bisson told her to notify the chair of the department, and to do so with other students. Miller added that "students are more powerful than they know."
Bisson, who headed the Faculty of Arts Committee on Teaching last fall, went on to speak on some of the matters he feels compromise teaching. "There's a perception among academics that we are judged more for our research than for our teaching, and that's the same at all major North American universities," he noted, having conducted a survey on the question.
"Ways have to be found to encourage the enthusiasm people have for teaching," said Bisson, a winner of the H. Noel Fieldhouse Award for Distinguished Teaching. Aside from the obvious matter of class size, he told the audience that with the reduction in support staff due to budget cuts, "the bureaucratic stuff that academics have to deal with has skyrocketed. "We don't have a 'moral crisis,' [as Kuhner said in his Gazette piece] we have a crisis of morale. It's important that people see this from the perspective of both. Students and academics have to be part of the solution."
Dean Miller noted that despite the problems, his faculty still enjoys the status of having the greatest student satisfaction with teaching. Nevertheless, he would like to see his faculty's professor to student ratio of 1:25 come up to the University average of 1:18. "We would have to hire 70 new professors," he said.
One who was undaunted by the meeting's sometimes gloomy portrayal of teaching conditions, was Bob Marra, a father of a potential McGill student up from Boston with his daughter to visit the campus. "I've been here for 17 hours and I've talked with dozens of students," he said. "The end result of every conversation was: `Definitely, send your daughter here.' They're very positive of their experience."
Marra was also reassured by what he witnessed in the AUS meeting. "I'm impressed by this gathering. It's remarkable to have senior administrators, profs and students talking in this respectful dialogue."
Even though the term is winding down, the dialogue will continue. Andrew Kovacs is editing a videotape of the initial meeting for the administration to view, and he notes that the Dean of Science, Alan Shaver, is interested in holding forums with science faculty and students next semester. Gemma Peralta, vice-president (academic) of the AUS and co-organizer of Friday's meeting, is making a list of recommendations to her faculty's Committee on Teaching based on that meeting's content.
And, of course, the infusion of new money and the hiring of hundreds of new professors over the next 10 years, as outlined by Vice-Principal (Academic) Vinet at last week's Management Forum should ease the situation.
The rock has been thrown and it's rolling.