We've come a long way, baby!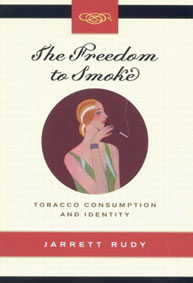 Courtesy of MQUP
Crowded bars during happy hour with patrons holding a drink in one hand and a cigarette dangling from the other. Diners in the smoking section of a restaurant taking a long, satisfied drag from their cigarettes after their meal. Quebecers are accustomed to puffing with impunity but starting January 1, 2006, this habit will be gradually snuffed. The Quebec government will impose a new law to be in full effect by May, that will gradually ban smoking from all bars and restaurants.
This law will forever change Quebec's cultural and social landscape. McGill's new Chair for Quebec Studies, Jarrett Rudy, has studied Quebecers' torrid relationship with smoking and has written a provocative book called The Freedom to Smoke (McGill-Queen's University Press). Rudy describes Quebec's unique history of the rise and fall of smoking. and sheds light on Quebec's culturally entrenched habit.
Quebecers had distinctly different attitudes towards smoking compared to other Canadians. In his book, Rudy explains that while the anti-smoking movement was gaining ground in Ontario at the beginning of the twentieth century, the Roman Catholic church was strongly opposed to any state interference in a person's moral growth. In Quebec, the church was the only institution to dictate behaviour reforms. "Religion played a key role in making sure there was no healthy anti-smoking movement in this province," says Rudy.
According to Rudy's historical account, some smoking habits have already been extinguished. In 1874 a doctor prescribed three cigarettes a day to an expectant mother to help curb her morning sickness. Smoking also served as a rite of passage. It signified that you were part of the elite and also when a boy was entering manhood.
Smoking's exclusivity changed when cigarettes were mass produced in the 1880s. Tobacco companies started targeting consumers through advertising. There were "Sweet Sixteen" cigarettes created to attract the youth market. Women were placed in ads but the tobacco companies weren't overtly targeting them as potential customers. In the 1930s the Roman Catholic church was in control of moral education and made it clear they were opposed to women sparking up because it did not fit their maternal image.
By mid-twentieth century the tide was turning as women activists embraced smoking as a sign of their personal freedom and a way to assert themselves in society.
In the 1950s the first studies were published that proved smoking had adverse effects on health. While Quebec was home to the most smokers in the country, the numbers started to drop thanks to the new law of the land. And in 1998, former PQ health minister, Jean Rochon, introduced legislation that was stronger than anything before.
According to statistics, Quebecers have been on a steady decline of butting out. In 1999, 33 percent of Quebecers aged from 25 to 44 smoked and by 2003 it was down to 26 percent. With rising health care costs from smoking-related illnesses, the will to quit is stronger than ever. Rudy predicts that smoking will become history.
He recalls how smoking has diminished even within his circle of friends. "When I came to Montreal in 1994 there was a group of 30 or so of my friends who smoked. Today, they have all quit," says Rudy.