Around campus
Arts and science war on cancer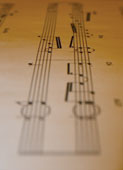 Courtesy of ISTOCK.com
"Opera DEFIes Cancer" is the theme for the latest Défi Corporatif Canderel fundraiser at Pollack Hall on Thursday, November 3. The beneficiaries are cancer researchers at McGill and the Université de Montréal, but the knowledge gleaned will go global.
Sarita Benchimol, Assistant to McGill Cancer Centre Director Michel Tremblay, explains, "What we're trying to do more and more is link the arts to our science. And since our science is of the highest class, we naturally thought of opera." She notes her centre's researchers are extremely well funded for projects with lots of prior evidence. But this event will fund the Innovative Research Award Program, which supports "informed hunches" where no preliminary results exist. "Ninety-five percent of these projects succeed and then obtain grant agency funding." She points to recent work linking diabetes, obesity and cancer.
Baritone Vincent Ranallo, soprano Anne Saint-Denis, and bass Ernest Herz will donate their talents for the occasion. Danielle Charbonneau, CBC Radio Two's host of Music for a While, will emcee. Chamber orchestra I Musici de Montréal is also featured.
Défi Corporatif Canderel has raised almost $5 million for the cancer centres. On the first Friday in May, they hold a corporate "fun run" downtown, featuring hundreds of costumed business people and professionals.
For more information and ticket reservations, call 398-6268.
Twelfth Night revamped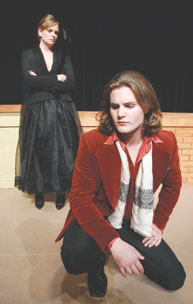 Owen Egan
McGill's department of English Drama & Theatre is bringing Shakespeare's most popular comedy, Twelfth Night, to Moyse Hall. When identities are mistaken, both wild confusion and sidesplitting hilarity abound in this tried and true masterpiece about illusion, deception, disguises, madness, and the things folks do for love.
The Bard's classic work, however, will be assuming a modern guise under the directorial supervision of Professor Sean Carney. In this updated production, the city in the kingdom of Illyria is transformed into a contemporary condo villa on the Adriatic. Gone are the traditional Elizabethan costumes. This production will instead feature a wardrobe inspired by urban-punk, haute couture, Euro-trash, and S & M fashions. Far from the lavish period production staged in Moyse Hall in 1991, this is Twelfth Night meets Lifestyles of the Rich and Famous.
"We've brought a contemporary sense of humour to the production and the jokes and absurdity we've introduced are all designed to be clear to people now," says Carney. "My main priority has been to draw out that kernel of fun that is at the heart of Shakespeare's comedies."
November 9-12 and November 16-19 at 8:00 pm, Moyse Hall (853 Sherbrooke Street West). $10 for adults, $5 for students, seniors, and groups. Reserve by calling 398-6070.
For kids, big and small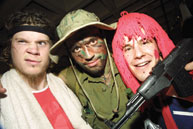 Owen Egan
If you carve the scariest, spookiest pumpkin at Thomson House this Friday, you could win tix to the best Halloween party in town the next night at the same creepy building up the hill. And since all tickets are sold out for the heavily costumed event, this could be your only chance to get in on the party.
The carving's open to all Post-Graduate Students' Society members and their families — kids welcome!
If the littlest hobgoblins in your life want some more Hallow's Eve entertainment, bring them to McCord Museum's annual Witches' Banquet. At 11 am little witches and warlocks can learn some creepy-crawly recipes; at 1:30 they can make a spooky soundtrack. Then at 4 pm, everyone takes a seat at the banquet with some truly frightful characters!
Thomson House pumpkin carving, 6 pm, October 28, at 3650 McTavish. McCord Museum, 690 Sherbrooke West, 398-7100. Witches' Banquet Saturday, October 29 and Sunday, October 30, 11 am to 4:30 pm.
Food for thought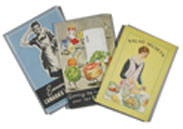 Courtesy of McCord Museum
From talking turkey to tasting Montreal, the conference "What's for Dinner: the daily meal through history" will dip into the rich goulash that is Canadian food history. Co-hosted by the McGill Institute for the Study of Canada and the McCord Museum, the conference is the first of its kind and will serve up experts from a sprinkling of fields such as art history, film studies and nutrition. The culinary scholars will talk of food traditions and identity, trends and revivals.
The opening event Wednesday evening will be a round table discussion on the Montreal Table, featuring local omnivore Barry Lazar, author of Taste of Montreal: Tracking Down the Foods of the World and master brewer Ellen Bounsall of McAuslan Breweries, as well as other local food celebs.
And for a season-appropriate topic, Andrew Smith, editor of the University of Illinois Press's Food Series will give a finger-lickin' lecture Thursday morning on "Talking turkey: Thanksgiving in Canada and the U.S."
"What's for Dinner?" November 2 to 4, McCord Museum, 690 Sherbrooke St. To download the program and registration form go to: www.mccord-museum.qc.ca/colloquium
The fee is $50 / $20 for students and McCord members, closing banquet, $60. To come stir the pot, register with Amanda Kelley at 398-7100, ex. 305, or email
First Town Hall of the year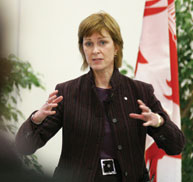 Owen Egan
Oyez, Oyez, Principal Heather Munroe-Blum will be holding a Town Hall meeting in mid-November. The lunchtime event is open to all members of the McGill community and is a chance to get an update on what's going on at the university and discuss matters about McGill in a collegial forum. Bring your suggestions and questions and meet your fellow community members, students, staff and faculty alike.
Next Town Hall is on Wednesday, November 16, from 1 pm to 2 pm in the Moot Court in Chancellor Day Hall, 3644 Peel St.