Putting the vocation into convocation
Dynamic duo makes ceremony user-friendly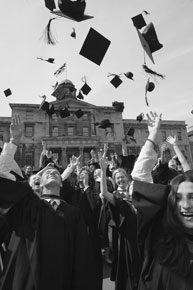 The way Pauline Frixione sees it, planning convocation is like childbirth. "Once you see the baby's face, you forget how hard it was," she laughs. In the case of this year's fall convocation, the baby in question had almost 5,000 faces. That's how many people — students, parents and friends — were on hand at Place des Arts on October 20.
Frixione, administrative officer and convocation liaison, and Patricia Wood, assistant to the secretary-general, have been the Batman and Robin of pomp and circumstance for several years now, spearheading the organization of spring and fall convocations. Or maybe they are more like the Heckle and Jeckle of the mortarboard set, as neither can go more than one minute without cracking a joke or telling a funny story about their adventures.
The pair admit to taking matters into their own hands to see that things are done as they see fit. Until a few years ago, there was no bagpiper at convocation — especially strange considering the university's name and rich Scottish heritage. Despite a few vocal nay-sayers Wood and Frixione surprised almost everyone by adding a piper to the proceedings — and he's been an integral part of the ceremony ever since.
Always plotting innovations, Wood and Frixione are working on having future pipers clad in the McGill tartan and being led in by a mace-bearer. "First we have to get someone to make a mace," laughs Wood. "We'll both get fired one day, for sure, when we go over budget."
This time around, there were a number of new wrinkles at convocation. For starters, for the first time ever, there were two ceremonies, one in the morning and one in the afternoon, instead of the one all-encompassing celebration. "Convocation seems to be kind of trendy these days, and more and more people want to attend," says Frixione. "This year we ended up having almost 5,000 people. It makes it awfully long. We even asked speakers to keep their comments down to five minutes just to move things along." One wonders if Wood and Frixione were hovering offstage with a giant Gong Show hook lest someone go over their allotted time.
In fact, convocation has never been so user-friendly. This past spring, the University marshals, professors David Harpp and Edith Zorychta designed a section of the website (www.cool.mcgill.ca) to walk graduating students and their guests through the entire ceremony, from how to get to the venues, to how to put on the gown, to why stiletto heels and long, cumbersome gowns don't mix.
And it's animal-friendly, too — new gowns were contracted this past spring and the fur that traditionally lined the undergraduates' hoods had been replaced by faux-fur. As well, graduates were able to keep their mortarboards, engraved with the McGill logo and the date inside.
Talking to Wood and Frixione, it is obvious that they love their job. When asked why they pour their hearts and souls into it, Wood explains. "Face it, the students have four years worth of memories of McGill," she says. "But for many parents, this will be their whole university experience. Sometimes you see parents who have come from afar and this is the first university graduate of the family. The look on their faces — it's incredibly moving."

Honorary degrees
KENT NAGANO
MSO boss to receive honorary degree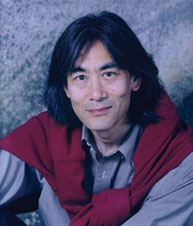 Kent Nagano, Musical Director of the Montreal Symphony Orchestra, will be awarded an honorary Doctorate of Music at a special convocation ceremony on Thursday, October 27, at Pollack Hall at 10:30 am.
Nagano has established a reputation as a gifted interpreter of both the operatic and symphonic repertoires. A popular guest conductor with many of the world's leading orchestras, Nagano is Artistic Director and Principal Conductor of the Deutsches Sinfonie-Orchester Berlin and Principal Conductor of the Los Angeles Opera (a position he holds until 2006). In 2006 he will take over from Zubin Mehta as Music Director of the Bavarian State Opera, and also become Music Director of the Orchestre symphonique de Montréal, for whom he will serve as Music Advisor for this season and next. He also maintains his long association with the Berkeley Symphony Orchestra in California, where he has held the position of Music Director since 1978.
The Californian rose to prominence in 1984 when Olivier Messiaen selected him to assist Seiji Ozawa in preparing the world premiere of his opera Saint Francois d'Assise. His recording of Busoni's Doktor Faust with the Opéra National de Lyon won the Grammy Award for Best Opera Recording. The recording of Prokofiev's Peter and the Wolf and Jean-Pascal Beintus' Wolf Tracks with the Russian National Orchestra for Pentatone was the winner of a 2004 Grammy Award for Best Spoken Word Album for Children. It features Sophia Loren narrating Peter and the Wolf, and a new piece, Wolf Tracks, narrated by Bill Clinton with introductory remarks provided by Mikhail Gorbachev.
RUTH GOLDBLOOM
Tireless fundraiser recognized with honorary degree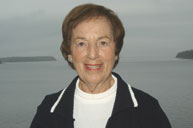 Philanthropic fundraiser and Pier 21 Foundation Chair Ruth Goldbloom was awarded an honorary Doctorate of Laws on October 20, as part of McGill's fall convocation ceremonies.
An Officer of the Order of Canada, Ruth Goldbloom has earned many honours including the Human Relations Award from the Canadian Council of Christians and Jews, Heritage Canada's Achievement Award for contributions to heritage conservation, the Volunteer of the Year prize from the Centre for the Advancement and Support of Education, and the Ambassador Award from the Tourism Industry Association of Nova Scotia. Flare magazine recognized her many accomplishments in 2004 with the Flare Volunteer Award for Lifetime Achievement, noting that Goldbloom contributes more than 2,500 hours to volunteer work each year.
Her latest project, Pier 21, was realized as a result of her unmitigated enthusiasm and leadership. Through her efforts, the pier that served as the port of entry for one million immigrants to Canada was transformed into a national symbol of hope.