McGill and Coke set to ink deal
BRONWYN CHESTER

Pepsi drinkers will be bummed out, but Coke enthusiasts will be thrilled. McGill and Coca-Cola are close to a deal that will give Coke exclusive rights over selling cold beverages throughout most of the University. In return, the cola company will provide a large, but unspecified, amount of money to be used for building renovations and other McGill needs.
Farewell to Phyllis
DANIEL McCABE

McGill's vice-principal (administration and finance) Phyllis Heaphy is leaving the University for a job at the Hospital for Sick Children. One of the University's key players during the last five years, Heaphy offers some advice for McGill's future.
A forecast for the future
DANIEL McCABE

What will be the hot issues for McGill this year? What topics are likely to come up in Senate or during lunch at the Faculty Club? We asked over two-dozen members of the community. Here are some of their picks.
Cry of alarm from CUP
BRONWYN CHESTER

The Commission des universités sur les programmes is close to completing its examination of the province's university programs. Its conclusions so far? For the most part, the programs are in fine shape except for the lack of funding from Quebec City.
Created for chemical queries
SYLVAIN-JACQUES DESJARDINS

Is your drinking water safe? Are hot dogs nutritious? Does ginseng work? Chemistry plays a large role in our everyday living and a new office created at McGill aims to help the public cope with chemical confusion.
Doing the "impossible"
SYLVAIN COMEAU

People with severe spinal cord injuries have hope that they might be able to walk again, thanks in large part to the research of Albert Aguayo. Now Aguayo is using his expertise with nerve regeneration to see if damaged nerve fibres in the eye can be repaired.
More Americans at McGill
DANIEL McCABE

Walk around campus and you may notice a surprising number of Texas drawls, North Carolina lilts and Boston accents. McGill is now home to what might well be our largest ever first-year class of American students, thanks in large part to the efforts of the Admissions, Recruitment and Registrar's Office.
Scout's honour
BRONWYN CHESTER

Want to help a young immigrant adapt to life in Canada? Make him a scout, pronto.
In the Ghetto
SYLVAIN-JACQUES DESJARDINS

McGill students love living in the McGill Ghetto, the downtown neighbourhood bordering the McGill campus to the east. Their neighbours have decidedly mixed feelings about them.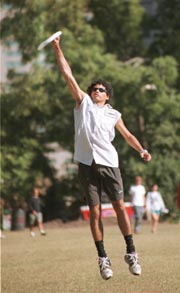 Hail the mighty frisbee It's one of the world's great accidental discoveries. According to one frisbee web site, the first flying disc was actually a pie plate containing the desserts of the Frisbie Baking Company. Some industrious students at Yale (or Princeton or Dartmouth or Amherst Ñ seems the birthplace is in dispute) had the bright idea to fling the darn thing. Generations later, the frisbee is still a magical stress reducer on campuses around the world.

PHOTO: OWEN EGAN