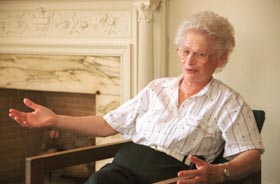 PHOTO: OWEN EGAN
Pesel Hornstein: Happiest at work
After 28 years as a homemaker, Pesel Hornstein hadn't given much thought to the idea of returning to work. The typing course she took wasn't to make herself more marketable -- it was to help her children with their university assignments.
In fact, it was her son, physician David Hornstein, then studying physiology at McGill, who told her of a job opening for a typist in his department. "Why not?" she recalls saying to herself.
That was in 1985 and she got the job. But Hornstein didn't stay for long. She learned of another job at the School of Physical and Occupational Therapy, a place she knew well from her student years in the '50s, when she trained as a physiotherapist, and a place at which she was keen to work. She was hired.
Why didn't Hornstein go back to working as a physiotherapist? "My daughter had graduated in physical therapy and I could see that I had been away from it for too long. Besides, it was too physical," says the grandmother of three.
Hornstein says the only real difficulty she found in returning to the workforce was "getting supper." Just then her pager buzzes. It's her husband. "I'm on a short leash," she says with the dry sense of humour for which she is renowned in the school.
The "den mother" of "P and OT" is at a stage in life where she doesn't have to work but continues to for the sheer pleasure. "It's fun. The most enjoyable aspect of this job is the people I have worked with. Working for Dr. Wood-Dauphinee [the school's director] has been a joy," says Hornstein. "It's very instructive typing up grant reviews and reviews of manuscripts. She [Wood-Dauphinee] is a very thorough writer. I read the stuff I'm typing so I find it very interesting."
If Hornstein were to be laid off tomorrow, there'd be no going home.
"I'd head straight for the volunteer bureau to look for full-time volunteer work. I wouldn't want to be at home full-time. The days go by and you do your things and there's just no end to it. When you're working, the things that don't get done at home just don't matter."
Revered in the school for her humanity, openness to learning new skills and eagerness to help with tasks that vary from running down to Club Price to pick up food for a reception to managing the umpteen details involved in preparing manuscripts, Hornstein was recently awarded the Anne McCormick Award for Excellence in the Faculty of Medicine. Created two years ago in honour of a former assistant to the dean of medicine, the award recognizes exemplary service in a Faculty of Medicine staff member.
When Hornstein learned she had won the award, she was shocked.
"I just do what I do. When there's a need to get something done and I know how to do it, I do it," she says, sitting in "the bathroom," as she calls her office. Indeed, it is the former bathroom of a Golden Square Mile mansion which houses the school, and the tile walls -- at least, what you can see of them beneath the many work-related cartoons and musings -- are the proof.
This is Hornstein's home from 8 am to at least 5 pm every day. Given that her children are grown up and she has no ambitions "to break through the glass ceiling," Hornstein considers herself "privileged" to have the luxury of having time with relatively few claims on it. Her only frustration is that she can't program her computer. "I would like to have time to learn those basic skills like programming. Maybe in my retirement…," she muses, quickly adding that she has no plans to retire.
Bronwyn Chester