On campus
Romancing the bones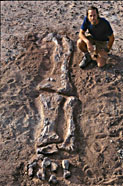 Ever wonder what it's like to dig up dinosaurs? Over the past decade, Hans Larsson has visited Western Africa five times to seek out elusive dinosaur fossils. More recently, he's scoped out the Arctic for future digs.
Larsson will share his tales of sun, sleet, drinking bad water, eating whale skin and encounters with camels in a presentation and slide show for the public.
"I like being able to explore without being a tourist," Larsson says, "and camping without being in a campground."
He says the people of Niger, where he's spent the most time doing fieldwork, are friendly and welcoming to strangers in their midst. When meeting locals after travelling alone for days through the relentless desert, Larsson would often be invited in and offered camel milk or cheese. Made by leaving camel milk in the sun so it dries out and becomes rubbery, the dish is salted by the sweat of the preparer. This is a rural delicacy, he says, as city-dwellers in Niger are more likely to eat vache qui rit cheese.
Hear what it's really like to do fieldwork in remote places by attending "Hunting for Dinosaurs: From Africa to the Arctic" on December 10, 6 pm, at the Redpath Museum Auditorium. This will be the first in a biannual series of public talks to be held at the museum.
Crafty ways to save on presents

On your marks, get set, shop! Bargain-hunters looking for crafty ways to decorate their tree or stuff holiday stockings should browse through the Centraide Craft Fair on November 28.
Handmade items for sale will include silver jewellry, candles, knitted sweaters and purses, as well as different Christmas tree ornaments. Wooden artworks, incense and organic tea will also be retailed. Prices will range from $1 to $50.
Anne Kosowski, an administrative assistant from the Department of Earth and Planetary Sciences, organized the event. "It's a new way to raise funds and awareness for McGill's 2003 Centraide Campaign," she says.
The craft fair, in the lobby of the Leacock Building, begins at 9 am and wraps up at 4 pm. For more information, please call contact Kosowski at 398-3490 or anne.kosowski@mcgill.ca.
Looking for bigger ticket items for that special holiday gift? Make sure to drop by the Third Annual Silent Auction November 27 from 4 pm to 6 pm. The event is in the Bronfman Building's Executive Institute Lounge (Room 600). Admission is $2, which includes one beer.
Both fundraisers are part of McGill's 2003 Centraide Campaign, which aims to collect $270,000 by December 1. Pledges can be made directly from pay cheques by completing an online form at www.mcgill.ca/centraide.
Deck the halls
In December they hang from houses like bow-tied life preservers: Christmas wreathes, a sublime mixture of nature's green bounty and human creation. Hung on a door, the prickly needles form a circular portal of welcome and Yuletide cheer.
The husband-wife team of Macdonald campus security head Patrick Blue and Monique Dallaire are leading a Christmas wreath workshop at the Morgan Arboretum. Blue spends at least a day gathering fresh materials — Balsam, Hemlock and White Pine and cones — from his organic tree farm in the Townships. He's been making wreathes for 15 years.
"It's very simple," he said "And people come out with a product they made themselves."
For $20 you get the materials and expertise to help you create a wreath of your own. Workshops are December 6 at 9 am and 1 pm. Call 398-7811 to reserve a place, or email arboretum@nrs.mcgill.ca. The location is the Conservation Centre, just past 150 Chemin de Pins, Ste-Anne-de-Bellevue, in the second parking lot.
Google not run by magical goblins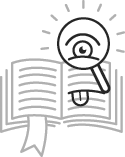 Tzigane
When you look at a book on a library shelf, and put it back, chances are it will still be there on your return. On the other hand, when you do a search on the internet looking for specific information, you might not get the same results from day to day.
According to a survey conducted by the Conference of Rectors and Principals of Quebec Universities (CREPUQ) most students arriving at the province's universities don't have a firm grasp on how to find good information for their research purposes on the internet or in the libraries.
"The study basically revealed that these people are not all that well prepared for research life at a university. In fact, they're very poorly prepared," said acting McLennan Librarian Kendall Wallis.
The study used a random sampling of thousands of freshmen from all of Quebec's universities. It revealed that the university needs to be ready to prepare these students for the rigours of university research.
"The McGill people did slightly better, but they're still pretty clueless about what they need to know. Google they know, but they don't know why they find things in Google, what they find, or how they find them," said Wallis.
Library and Information Sciences professor and lead author of the CREPUQ study Diane Mittermeyer will address a joint session of the Senate Committee on Libraries and the Senate Committee on Teaching and Learning at 2:30 pm on Friday, November 28, in room MS42 (street floor, McLennan Library) on the topic of "Information Literacy: Study of First-Year Incoming Undergraduates in Quebec." Open to the public.