Tropical haven for field courses
Ian Popple | "Take it easy, you're in Barbados." The statement is so common on this Caribbean island that it could be considered a national motto. Bellairs Research Institute, Canada's only university tropical research centre, does not operate at the relaxed pace that typifies the region. McGill's lab in paradise is working hard to build a reputation as a leading center for field studies in the Caribbean. This year, Bellairs welcomed three new field courses, including one semester-length McGill program focused on water resource management.
Bellairs is nestled amongst the exclusive resorts of Barbados' picturesque Gold Coast, jokingly referred to as the "newly-wed-and-nearly-dead-coast" by locals, because of the exclusive tourist resorts. For years Bellairs has provided a unique opportunity for students to gain valuable research experience — an integral part of a well-rounded university education. "Barbados is ideal for studying many subjects," said Dr. Bruce Downey, the stations' director. "Although we welcomed a lot of return visitors to the institute, the numbers weren't increasing."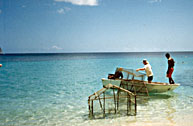 Ian Popple
An economic evaluation of Bellairs, conducted in Downey's first year, identified a need for marketing. The institute's website was updated and a poster and brochure were published for worldwide release. The popularity of Bellairs increased markedly in both the number of field courses and the diversity of subjects. Today Bellairs hosts courses ranging from marine biology to tropical agriculture, anthropology, geology and even computer science.
The institute's latest course is a 14-week McGill program involving twenty students from a range of disciplines. "The new course involves a holistic approach to water resources, combining management, sociology, law, economics and the physical sciences," explained Bob Bonnell, a professor in the Department of Bioresource Engineering and coordinator of the new program.
Like many islands in the Caribbean, Barbados is economically dependent on tourism. With over 1 million visitors annually and one of the lowest rainfalls in the region, water resource management is a tremendously important issue to this tiny island. Recognising a valuable opportunity for collaboration, Bonnell incorporated an internship component into the course. "We asked various Barbadian institutions if they could use a student to work on a water related project," recalled Bonnell. "The idea is that the students will collaborate with the host to produce a beneficial report."
The timing of McGill's new field semester program is perfect for Bellairs. The institute will be filled to capacity from the rainy season of September to December — traditionally the quietest period of the year. "It's an interesting and hydrologically active time to run a course devoted to the study of water," said Bonnell.
This year, Bellairs hosted two additional courses: an archeology group from Western Michigan University, and a sociology group from the University of California, Davis. "We will be close to capacity for much of this year," said Downey. Word is spreading about the unique blend of sun, sea and science offered at Bellairs. For the first time in history, they may have to post a "no vacancies" sign on the palm tree at the front gates.
Although field courses are the financial bread and butter of the institute, Downey is quick to point out that they are also vital for determining the future direction of scientific research. "Field courses help foster research ideas," he said. "Students and professors visit Bellairs as part of a field course, get ideas, and then return as researchers." Pete McDougall, a graduate student in biology, is a typical example. McDougall visited Bellairs as part of McGill's Applied Tropical Ecology field course in 1999; a year later, as part of a component of a MSc, he returned to collect data on the fringing coral reefs adjacent to the institute. "Bellairs provided my first taste of hands on biology," recalled McDougall. "I discovered the appeal of field research."
"Bellairs is not only a valuable resource for students at McGill, it also raises the profile of the university," said Downey. "But it is important to keep the place well maintained." Bellairs was created in 1954 from an endowment by the late Commander Carlyon W. Bellairs, of the British Royal Navy; physically, the place has changed little since. When Downey began his tenure as director three years ago, there was no funding from McGill for either operating or capital expenses. That changed last year with a contribution from the university towards the base operating budget. An estimated $1.8 million (U.S.) is required to complete the Bellairs redevelopment plan, which would improve lab, conference, and living facilities. This year, the university awarded a grant to improve electricity at the station. "The lights no longer flicker when the fridge turns on," joked Downey.
To learn more about Bellairs visit: www.mcgill.ca/bellairs. For more on the new semester program visit: www.mcgill.ca/mse/field_study/barbados/.