In focus
Louise Savard: On the job of security
The soundtrack of Louise Savard's work life is an incessant carillon of email chimes and telephone rings. The manager of McGill's Security Services, Savard is much in demand these days, though not because of some escalating crime wave. Rather, she credits her exceptional busy-ness to the increasing visibility of her department.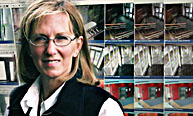 Claudio Calligaris
This is a deliberate trend. "Security Services changed drastically three years ago," Savard explains. "We decided to change the way security was done and seen at the university."
Savard's unit moved to the first floor of the Ferrier Building, in the heart of campus, and nearly tripled its space and staff size. It installed a network of emergency telephones, promoted safety campaigns and publicized a night walk route. It acquired security cameras and linked up with the LENEL identification system to keep better tabs on McGill buildings, people and their belongings. And it beefed up its uniformed security patrols.
"We want people to know that we are here to help if they need us," Savard says. "Our security agents are more visible now, younger, and better able to relate to people. They're friendly."
If this doesn't sound like a phrase you'd expect from the gravelly voice of a hard-nosed security professional, that's the idea. There isn't a hint of gravel in Savard's demeanour. Nor is her background remotely related to crime-fighting. She came to McGill in 1974 with a freshly minted Concordia MBA, and worked in a variety of finance positions, all the while remaining virtually unaware that McGill offered any security at all.
Savard was an outsider. And she admits her hiring into the macho world of security was a leap of faith for both her and her employer. The risk, however, was calculated. Savard brought expert managerial skills, a deep knowledge of the university and, perhaps most importantly, a fresh perspective on security. This didn't allay her initial anxiety. "I knew I'd be working with men. Big men. Police officers. That did make me nervous a bit," she recalls. "But the fact that I was surrounded by such great people made it really easy."
Now her precipitous learning curve has rounded out. She heads a staff of nine who hail from policing and security backgrounds, as well as a corps of 75 contract security agents from Garda of Canada.
"We have police officers, we have security agents, and then we have me," she says with a laugh. "It's a wonderful combination."
They all earn their keep. Security Services provides round-the-clock coverage for the tens of thousands of students, staff, faculty and visitors who use 150 McGill buildings on campus and in the city. And it never takes a vacation. Security agents responded to more than 13,000 incidents in the first nine months of 2003. Some of these are urgent calls — accidents, assaults or medical emergencies that Security dispatch receives from campus emergency phones or 911 calls from lines with a 398 or 399 prefix. In those cases, McGill Security agents usually arrive on the scene ahead of Montreal police, fire or emergency personnel and facilitate an expedient response.
Much of the work of Security Services, though, is not the stuff of prime time cop shows. Security agents administer first aid to accident victims and provide escort to parking lots for nervous late-nighters. They keep an eye on unattended experiments during academic breaks and connect with help in cases of flood, fire or lock-in. They monitor security cameras and hand-check every building every night. They escort contractors to sensitive building sites and coordinate ID card access for people and buildings. They check out tripped alarms on doors, cameras and computers and provide security to controversial speakers. They safeguard lost and found items.
Even last year's successful sting operation to root out a theft ring in the library was less about drama than sending a simple message to would-be criminals: you are being watched. "Our job is not to catch the bad guys," Savard says. "We want to stop bad guys from coming here."
If you always think it's normal to lose something, then you will never work to increase it because doctors have always told you that. I'm saying that it is not normal.
The thin man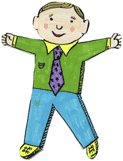 He's the only guy who can travel via regular mail, and he was in Montreal sightseeing for the past month. "He" is Flat Stanley, a boy who was rendered two-dimensional in a mishap with a bulletin board. Despite his setback, Stanley has gone on to star in a number of popular children's books. Stanley was visiting Samuel, son of Monique Levac and Jonathan Levey, both McGill staff. He came at the behest of Hallie Cohen, a third grade student at Brentwood School in Los Angeles. "Our class is studying a multicultural theme in Social Studies. It will really help us to see all the places Stanley goes to visit," writes Hallie.
Happy to show their slender guest a good time, Lerac and Levey took Stanley all over Montreal — to a hockey game, to restaurants, out for Hallowe'en, to the Cirque du Soleil, and, of course, here at McGill, where he was photographed in front of James McGill's statue and in the gym keeping trim. As the Levac-Levey family prepares to pack Flat Stanley for his return trip to California, they all agree that they will greatly miss the good-natured cardboard cut-out figure. And we're sure a little piece of him will always be Monsieur Stanley Plat.
Allowing strikes in the public sector has never made sense.
Flap jacks via half-backs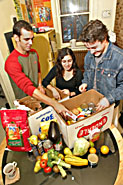 Owen Egan
What do you get when you cross a football team with a community service organization that provides food assistance for students who are having trouble making ends meet? Really big delivery men. This year the Yellow Door's Food for Thought Holiday Hamper campaign was given a hand by the Redmen football team, who helped prepare and deliver boxes of food to needy students. Many of the hampers were destined for members of the McGill Student Parents Network, and contained fresh veggies, staples and holiday treats. Here, wide receiver Stefan Kalenchuk and runnning back Michael Samman pack a box of goodies with Kimia Ghomeshi, coordinator of the Yellow Door's Rabbit Hole vegan collective. Deliveries will be made from December 14 to 16. Donations can be made to the Yellow Door Food for Thought Program at 3625 Aylmer. Tel: 398-4886 or e-mail foodforthought_mcgill@yahoo.com