Budget to run deficit
DANIEL McCABE

As things currently stand, McGill will likely run an operating deficit of $5 million in 1998-99. As the University examines the likely impact of new cuts to its budget from the Quebec government, it also mulls over how it should cope with their impact.
Big changes to law program
DANIEL McCABE

In 1999, new law students will be faced with a very different looking curriculum. The strength of McGill's program is its ability to train students in both civil and common law. Students will soon have an opportunity to examine the two systems in a more comparative way. The changes aren't without their critics, however.
A good deal or a dangerous threat: Sparks fly at MAI debate
SYLVAIN-JACQUES DESJARDINS

The controversial Multilateral Agreement on Investment was the focus for a recent debate between McGill economics professor Chris Ragan and Council of Canadians chair Maude Barlow. The MAI would benefit our economy, he said. The MAI would threaten our sovereignty, she said.
Turning four into one: Hugh Scott's challenge as director of the MUHC
DANIEL McCABE

The new director of the McGill University Health Centre arrives at a pivotal time. There's a lot to be done between now and 2004, the year in which the MUHC's new complex is scheduled to open. One of the first items on the agenda is to convince the MUHC's member institutions -- four proud teaching hospitals with long histories -- to begin building a common culture.
Rotblat's message
SYLVAIN COMEAU

Nobel Peace Prize Laureate Joseph Rotblat visited McGill recently. He talked about how he helped build the atomic bomb and about how he now hopes that all nuclear weapons will soon wind up on the scrap heap.
Security says...
SYLVAIN-JACQUES DESJARDINS

It pays to be paranoid. That was the consensus at a recent panel discussion on campus security.
People to turn to
BRONWYN CHESTER

McGill's Sexual Harassment Office is aiming to be more visible and less intimidating. Expect more outreach and less strict regulations concerning how someone can lodge a complaint. One thing hasn't changed, according to the office's new pamphlet: "At McGill, sexual harassment is never acceptable."
Grammy-award winning teachers
DANIEL McCABE

McGill's sound recording program attracts some big names from the music industry to serve as adjunct professors. The program's chair Professor Wieslaw Woszczyk says it isn't all that hard to recruit Grammy-award winners to do some teaching. "Our graduates make a very good name for us."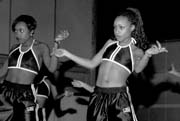 Eyoha! That's Wow! in Amharic, and it comes from a song sung by Ethiopian school girls to celebrate the return of spring. The McGill African Students' Society did just that, last week, at their fifth annual Eyoha soirée. "It was the biggest yet," says Society president Ogochukwu Okpala, a fourth year biochemistry student from Nigeria. At least 450 people came to savour the food and fashions (traditional dress), watch a Nigerian play and swing to traditional and modern dance beats. Here, science student Cecilia Kitakufe, from Nigeria, and management student Kristell Diallo, from Cameroon (by way of France), do a hip hop piece.