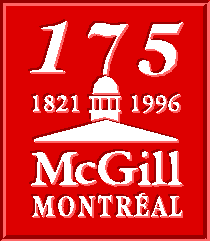 May is a busy month for McGill as the 175th Anniversary celebrations continue with one home-grown event followed by two major conferences.
"Re-imagining the Workplace" is a one-day conference taking place tomorrow in Leacock 232. Subtitled "Making choices and meeting the challenges of work, family and self," the conference features workshops and panel discussions on subjects ranging from changing career tracks to avoiding burnout to balancing work and family.
The conference is open to the public, but registration is a must. The opening session will be led by McGill Chancellor Gretta Chambers and Madame Louise Harel, Quebec Minister of State responsible for the Status of Women.
From May 8 to 11, McGill will host the Canadian Science Writers' Association (CSWA) and its annual conference entitled "The 1990s: The Decade of the Brain." The conference will be held in conjunction with the annual meeting of L'Association des communicateurs scientifiques du Québec. McGill will be represented by a number of speakers and panelists including Vice-Principal (Research) Pierre Bélanger, director of the McGill Centre for Research in Neuroscience Dr. Albert Aguayo, Associate Vice-Principal (Research) Dr. Bernard Robaire, and Dr. Richard Murphy, director of the MNI.
Hot on the heels of the CSWA conference, L'Association canadienne-franšaise pour l'avancement des sciences (Acfas) will hold its annual congress at McGill for the first time in its 64-year history. With over 5,000 delegates expected, the congress will be the second largest ever held at McGill. All sessions will be in French, with McGill faculty presiding.
For more information on these events, check the following web sites:
McGill's 175th Anniversary:
http://www.reporter-archive.mcgill.ca/Anniv/intro.htm
Re-Imagining the Workplace:
http://www.reporter-archive.mcgill.ca/News/image.htm
CSWA:
http://www.interlog.com/~cswa/home.html
Acfas:
http://www.acfas.ca/