MUNACA votes for action
Summer Friday buybacks and compensation at issue for clerical staff
Mark Reynolds | The union representing administrative and support staff at McGill rejected the University's offer for a new contract. The two sides are scheduled for a meeting with a conciliator on December 11.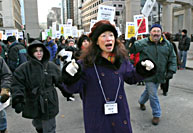 Owen Egan
On December 1 the McGill University Non-Academic Certified Association (MUNACA) voted 86 percent to reject the administration's offer that was tabled on November 26. At the same time they authorized union leadership to call for work actions up to and including a strike. The meeting that rejected the administration offer was attended by well over half of the union's membership.
The administration's offer is still the framework for discussion for conciliation, according to Human Resources director Robert Savoie.
"We're still talking about the offer, and they've come back with different proposals that we're still looking at," he said.
One key issue for the union is the proposed buy back of two floating holidays and two summer Fridays, according to MUNACA president Dot Luk.
"I would hope they would listen to our membership and take the four days off the table. The members have worked at McGill for the longest time knowing that we are paid less than our counterparts at the Université de Montréal, but they value their family time, and at this point they don't see it as worth it to give up that time," she said.
The union has stated the buyback of summer Fridays will have a different impact on the most senior MUNACA members. Savoie explained that this is a result of long-standing policy, but this aspect will be explored in conciliation.
Savoie said the university intends to maintain all services to students, professors and their teaching and research programs in the event of a strike. As per the Administrative Handbook, striking staff will be docked pay, as will any faculty or staff who refuse to cross a picket line.
"They won't be paid while they are on strike and you can't make up that money through vacation or other means — pay will be docked as strike days accumulate," he said.
Although Provost Luc Vinet stressed that the university is doing all it can to resolve the situation, "It's the responsible thing to prepare for any eventuality."
Classes, exams and submission of final grades will all be conducted on schedule. Vinet said the professors will not be expected to do the work of MUNACA members. Professors may choose not to cross the picket line, however, Vinet emphasized that it is their responsibility and that of academic leaders to ensure exams and classes are conducted in their absence. In addition, Vinet noted that "students are adults and they have to assume the consequences. Like I said, exams are on, and students are expected to write their exams."
On Friday, December 5 MUNACA staged a demonstration and voluntary half-day walk-out. The picketers gathered outside Roddick Gates and then walked past a line of security guards to gather peacefully in front of the James Building.
"We chanted our slogans, we sang a few songs — it's too bad the Principal was not there to hear us," said Luk.
Luk said she is hoping that the conciliation meeting on December 11 will bear fruit.
"If the university can offer us something better and I can take it back to the members for consideration, so much the better."