In focus
Barbara Lawson: Curator of curios
Barbara Lawson is not an Egyptologist, but occasionally she plays one on TV. Or in the newspapers. Being curator of the Redpath Museum's ethnology collections means sometimes devoting undue attention to the ensemble's undisputed star attractions: three human mummies from Ancient Egypt. Like the time in 1995 when she escorted one of the trio to the Hôpital Côte St-Luc for a CT scan amid a phalanx of fervent reporters and cameramen. "It was a media feeding frenzy," she recalls. "It's true that the public is rather mummy-wild."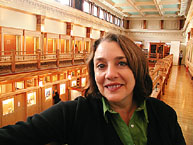 Claudio Calligaris
Of course, the three heavily bandaged cadavers are but a few of the 17,000 objects that have gathered in the ethnology collections, more by serendipity than design, since the Redpath Museum opened its doors in 1882. Today, the collections' artifacts play like three-dimensional illustrations of a textbook on human history. Stone Age skulls from Europe. Egyptian pottery and hieroglyphs. African spears, shields, tools and drums. Ancient Greek and Roman coins. Basketry from the South Pacific. South American beadwork and textiles. Medical implements from Sri Lanka. A suit of samurai armour from Japan.
"What's unusual about my position vis-à-vis a curator at another museum is that I have this extraordinarily vast collection. Its geographic scope is basically everywhere and its chronological scope goes from the past century back to the paleolithic," says Lawson. "I won't pretend to know everything about everything. But I do inform myself about our collections."
The curator of this lot must be polyvalent and endlessly curious, which about describes Lawson, who has parlayed a childhood love of museums, a McGill master's degree in anthropology and an adult fascination with material culture into a 20-year career at the Redpath Museum. "I just like looking at interesting things," she admits. "It's as simple as that."
The job is not so simple. Lawson's is not a routine, punch-clock existence. "People only see what is displayed," she says. "But a lot is behind the scenes."
A given day might find her verifying new acquisitions, researching old collections, preparing material loans, assessing object value, guest lecturing, consulting other museums, facilitating researchers, fielding questions from amateur collectors, writing and editing anthropological articles or even doing PR for the mummies. "And then there are the strange calls," she says, "where, for instance, someone expresses how they, because of their contacts on Venus, are able to read Babylonian cuneiforms and Egyptian hieroglyphs, and is there anyone at the museum who would like to have them work on a project? They are usually quite tenacious."
But the core of her job is storytelling; her material is the stuff of human history. At the Redpath Museum, the story is expanding. For the first time next year, the ethnology collections will populate the entire third-floor gallery. Lawson is taking full advantage of this rare opportunity to create an exhibit from scratch, displaying some 1,000 objects from the ethnology collections in new and thought-provoking ways. She is crafting each case around a theme: ancient forms of writing; a suite of personal adornment; the manufacture of ancient containers from raw stone to polished vessel; a complete Roman table setting. "You could have an exhibit of stand-alone Roman glassware that people would ooh and ahh over and find quite beautiful," Lawson explains. "But the idea is to bring things to a level that people can relate to, not as unique and extraordinary objects, but as things that people used and lived with."
In quiet ways, the seemingly mundane details of ancient life — like a small cache of dried fruit that was packaged with one of the mummies, presumably so that he might arrive in the afterworld on a full stomach — can make history less a detached study and more an intimate encounter. "Sometimes it's the simplest things," Lawson says. "Not necessarily the big mummies, but the small things in relation that tell the story in context, that connect people with the objects they're looking at.
"The analogy has been made of museums as mausoleums. And they can be. They are filled with objects that people have used and discarded. But that's the challenge of the curator: to make them alive."
If she's successful, you may come for the mummies, but you'll stay for the petrified fruit.
"You can be a social conservative in the U.S. without being a wacko. Not in Canada."
Calgary's magic carpet ride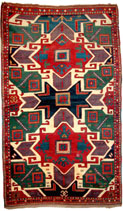 The University of Calgary will look a little cosier now that it has become home to the largest public collection of rugs in Canada. The university's Nickle Arts Museum received a donation of 600 Oriental rugs, valued at about $2.5 million. The rugs date from the 16th to the mid-20th century. Most are from Turkey, Persia (Iran) or the Caucasus regions of East Asia. Many were made and used by nomads and will become an important resource for research, not only in areas such as textiles and fine arts, but also in the fields of social history, anthropology of East Asia, Islamic studies and women's studies. The rugs were donated by Dr. Lloyd Erikson, a longtime collector and former University of Alberta anatomy professor. He also included a cash donation of $1.6 million, part of which will help care for the rugs.
To see photos of some of the rugs, go to www.ucalgary.ca/news/sept03/rugs/
"We knew a lot about individual neophobia differences and health outcomes, but no one ever looked at lifespan. This fills in a key piece of the puzzle."
Nursery rhymes to safety crimes
Mothers, don't let your children grow up to become nursery rhyme characters. It's a grim and dangerous business, and the medical benefits are non-existent. So say two Dalhousie medical students, who wrote a paper for the Canadian Medical Association Journal (CMAJ) on head trauma in popular children's rhymes.
Each year, the CMAJ runs humorous articles for their December issue. Sarah Giles and Sarah Shea examined the tales of "Humpty Dumpty" and the "Ten Little Monkeys" jumping on the bed, and the tragic tale of "Jack and Jill."
They were most disturbed by the care afforded to the famous infant in the tree described in "Hush-a-bye Baby." The child must have suffered great trauma in its fall from the treetop, "but medical attention does not seem to have been sought. If it was, it was not documented," they note.
"Why was this infant in the tree in the first place? Child Protective Services should have been called to interrogate the child's guardian, who was obviously failing to provide a safe environment."
As a counter to the blatantly unsafe medical practices demonstrated in the nursery rhyme world, the two scholars offer a rhyme of their own, called "A Medically Sound Nursery Rhyme":
Little Johnny rode his bike, / No helmet on his head. / He took a fall and split his skull, / His mother feared him dead.
She rushed him to the ER, / Where they checked his neuro signs. / They noted a blown pupil / And inserted IV lines.
They called the neurosurgeon, / Who came in and drilled a burr. / Now Johnny's fine; he rides his bike, / But he's helmeted, for sure.
The full text of the article can be read at www.cmaj.ca/cgi/content/full/169/12/1294.