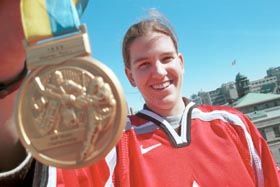 Kim St-Pierre: Playing for gold
The first time she put on goalie equipment, she got the pads on backwards. She was nine years old and the coach of the Chateauguay pee-wees was letting his players try out the goalie's position.
Kim St-Pierre was interested, but her mother cautioned, "'Just to try,'" recalls the grown-up Kim, now 20 and recently back from Finland where she played with the gold-medal-winning Team Canada women's hockey team. "She was worried that if I started to play goal, that's all I would ever get to do," chuckles St-Pierre. "In those days, the goalie wasn't the most prestigious of positions."
St-Pierre's first game as goalie wasn't exactly a smashing success -- her team lost eight to nothing. "I said to my mum, 'I don't want to play goal anymore.' But I went back."
Perseverance is a quality bred into this athlete's big bones. Her father, a provincial police officer, plays hockey, runs daily and lifts weights. Her mother is a physical education teacher and triathlon runner. And her brothers, one older, one younger, are also hockey players. By the time St-Pierre was 10, she was competing in tennis, soccer, softball and swimming, as well as hockey. Athletic pursuit is a family value in the Vallières-St-Pierre household.
What's new for St-Pierre is playing hockey with members of her own sex. From age eight to 20, she played with boy's teams and was in the men's junior AA category -- that's two levels before professional league hockey -- when the general manager of the McGill women's hockey team, Dean Madden, hand-picked St-Pierre for his team.
Not that McGill didn't have competition. The University of Vermont and several other American universities also courted the talented goalie, but St-Pierre chose McGill because she wanted to continue living with her family and welcomed the opportunity to play on a team where there were lots of new recruits. "We have great team spirit," she says.
Madden, who has also coached the women's hockey team, is delighted that St-Pierre accepted his offer. After watching the talented young player for three years, Madden "knew she had the abilities to help McGill's program to play at a higher level."
In addition, says Madden, "Kim has a very positive attitude and a great work ethic."
His hopes that Kim and other high calibre hockey players, like Julie Hornsby and Dana Rittmaster, would make the Marlets more competitive have panned out. This year, McGill placed second in Quebec and fifth in Canada at the recent national championships held in Mississauga.
"We lost, 3-2, in an overtime shoot-out with Alberta, who came in second to Concordia," notes Madden.
He believes his team is on its way to joining the "elite" clubs, like the Concordia Stingers and the Alberta Pandas, and the fact that St-Pierre was selected for Team Canada "is a great boost."
St-Pierre, for her part, can't quite believe how her hockey career has come together since she began at McGill last September. She has played in four championships: the "Three Nations" (Canada, the U.S. and Finland), the world, held last month in Finland, the Canadian senior women's, and the Canadian inter-university. Except for that last competition, St-Pierre has been a part of gold-medal winners.
Her success has been noticed. She is a finalist for McGill's woman athlete of the year honours and she was selected by the Quebec university women's hockey league as its best rookie this season.
While St-Pierre, a first-year physical education student, will be qualified to teach primary or secondary school in a few years, her dream, aside from spending a day talking goaltending with Colorado Avalanche star Patrick Roy and playing for Olympic gold in 2002 at Salt Lake City, is to earn her living as a hockey player. And she thinks the timing couldn't be better.
By the year 2003, she says, the women's NHL should be off the ground with three teams in Canada, three in the States. "I'll be 23 then," says St-Pierre, "and in my prime."
What it is that so attracts her to fending off the opposing team's advances? Tending goal is "like playing an individual sport within a team," philosophizes St-Pierre. "You're a little in your own world."
The goalie is also in the unique position of being the only player to see everything going on on the ice which gives her the responsibility of being the "number one" communicator once the action enters her zone.
"You're boss of the defensive zone," says St-Pierre.
All of which makes for lots of pressure, which, says St-Pierre, she thrives upon.
Bronwyn Chester