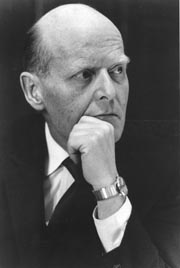 Blume remembered
Today at 3:30 pm, there will be reminiscences and musical tributes to the memory of Helmut Blume, dean of the Faculty of Music from 1963 to 1976, who died last October at the age of 84.
Blume is widely credited with having laid the academic and professional foundations upon which the faculty stands today. Appointed dean in 1963 with a mandate to downgrade the faculty into a department, Blume decided to do just the reverse and build a faculty of music that McGill could take pride in.
He expanded the faculty from three professors to 40 and increased enrolment from 50 students to 500. The curriculum was modernized and new facilities were acquired. Previously, as the chair of the Department of Keyboard and Vocal Music, Blume established the McGill Opera Workshop in 1956.
Born in Berlin, Blume, disillusioned by the rise of Hitler, fled Germany in 1940 in order to avoid serving in the military for the Nazis. He sought refuge in London, England, where he continued his piano studies. Upon the declaration of war, he was interned as an "enemy alien" and transported to a Canadian camp near Sherbrooke.
Canada became his home from then on. He was released in 1942 and began working on music programs at the CBC two years later -- one of his shows earned the CBC a prize from Ohio State University in 1957. McGill hired him as a part-time piano instructor in 1946. Apart from his accomplishments as a music administrator and broadcaster, Blume was also a respected concert pianist.
Among this afternoon's tributes will be three organ pieces, Bach's An Wasserflussen and Wir glauben all'an einen Gott and music professor Bengt Hambraeus's Récit de tièrce en taille, played by music professor John Grew. Choral music sung by the McGill Chamber Singers and conducted by Iwan Edwards will also be part of the program, as will reminiscences from Stanley Frost, the director of the McGill history project, and Maria Jerabek, the former director of Pollack Hall's concert office.
The service invocation and benediction will be given by religious studies professor Donna Runnalls and Dean of Music Richard Lawton will make the opening and closing remarks. Lawton, who was a student during the late dean's era, says that Blume's "deep understanding, knowledge and love of music, combined with a sense of fairness and duty to colleagues and students, was an inspiration to those of us who knew and worked with him."