Plug pulled on ISIS
DANIEL McCABE

McGill's newly-introduced human resources records system isn't long for this world. Vice-Principal (Information Systems and Technology) Bruce Pennycook explains why.
Shortage of IT grads hurts industry
DANIEL McCABE

Quebec's information technology industry is clamouring for more computer science, computer engineering and electrical engineering graduates from the province's universities. They're calling on the government to fork over millions of dollars to the schools to enable this to happen. McGill officials agree that there is a problem, but urge Quebec City not to rush into action without thinking things over.
Heralding Salmona's oeuvre
ERIC SMITH

Never heard of Columbian architect Rogelio Salmona? Take a glance at the pages of architecture professor Ricardo Castro's beautiful new coffee table book about Salmona and we suspect you'll never forget him.
Waging war on war criminals
SYLVAIN COMEAU

Judge Richard Goldstone, former Chief Prosecutor of the United Nations International Criminal Tribunals for the former Yugoslavia and Rwanda, says international law is starting to turn the tables on humanity's greatest criminals.
Writing science into fiction
DANIEL McCABE

Why is the scientist known as the father of the birth control pill writing fiction? In a bid to shed some light on science's secretive "tribal culture."
The art of the ask
DANIEL McCABE

Donors and fundraisers shed some light on what can make -- or break -- an attempt to earn a major donation.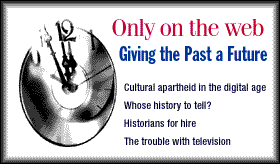 Cultural apartheid in the digital age
DANIEL McCABE
The CBC's Mark Starowicz is spearheading a bold new documentary on the history of Canada. He urges historians to get off the couch and help him lobby for more history on the tube.

Whose history to tell
PATRICK McDONAGH
Jack Granatstein's new book, Who Killed Canadian History states that a new emphasis on alternative histories has robbed Canadian history of its coherence. Meet the historians who proclaim, "Guilty as charged."

Historians for hire
LESLIE STOJSIC
A program at the University of Western Ontario is offering young history scholars a unique opportunity -- the chance to actually make a living as historians.

The trouble with television
PATRICK McDONAGH
If you want to make a good show about history, you'll need suspense, drama, an engaging script and sympathetic characters, says a leading TV critic. But what if the history gets lost in the process?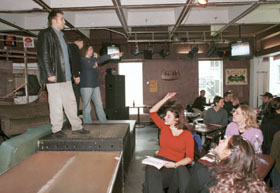 Hunks for hire
At a recent bachelor auction held at Gert's Pub in the University Centre, tough-bargaining ladies picked up some prime beefcake on the cheap -- shelling out a mere $15 for many of the bachelors on display (and denting some egos in the process, we suspect). It was all for a good cause, as the proceeds raised were donated to the Montreal Children's Hospital. The Lambda Upsilon Psi sorority organized the event.

PHOTO: OWEN EGAN