Parties promise end to cuts
ERIC SMITH

All of Quebec's major political parties say the days of cutting universities' budgets are at an end. The parties, however, aren't so sure that universities are doing all they can to train students for the rapidly expanding sectors of Quebec's economy.
Concern over faculty pay
DANIEL McCABE

A recent study indicates that McGill's academic staff are underpaid compared to colleagues working at other Canadian research-intensive universities. The administration pledges to tackle the problem. But where will the money come from?
Redrawing the map
PATRICK McDONAGH

What if Quebeckers vote "yes" in the next referendum? Law professor Richard Janda says the time to consider the implications of such a vote in a clear-headed way is right now.
Refus au féminin
SYLVAIN-JACQUES DESJARDINS

The women who signed the Refus Global helped reshape Quebec society. So how come we only remember the men who signed the historic document?
McGill still ranked third by Maclean's
DANIEL McCABE

Given the budget cuts the University has dealt with, it's a real accomplishment that McGill is still rated the third best university in its category, says Maclean's assistant managing editor Anne Dowsett Johnston. If the cuts continue, she's not sure we can hang on.
Go public or perish
PHILIP FINE

Some of the country's top social sciences and humanities professors recently trouped off to Ottawa. Their mission? To convince Members of Parliament that their research is worth supporting.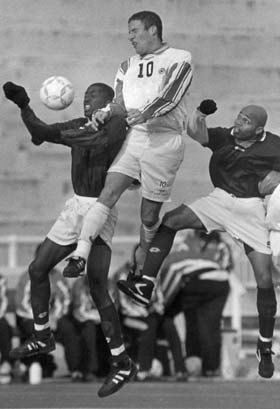 Above the fray: McGill Redmen forward Jamie Watson leaps for the ball while contending with opposing players from the Université du Québec à Montréal during a match last Saturday. The Redmen, the national soccer champions of a year ago, hosted the 1998 national championships at Molson Stadium. Unfortunately, they played the role of the gracious host too well -- losing the bronze medal match to their cross-town rivals at UQAM.

PHOTO: CLIFF SKARSTEDT